Investing in whisky: all you need to know – plus why you should do it
Advertisement feature: This is paid-for content on behalf of Vintage Acquisitions, and does not necessarily reflect the views or advice of NewcastleWorld.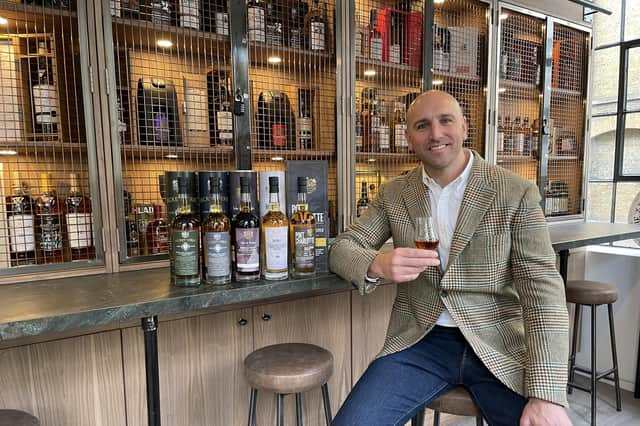 There's a thirst for investment in Scotch cask whisky right now, with some labelling it liquid gold as the market goes from strength to strength.
With casks doubling in value every five years in some cases, interest in rare and collectable whisky is on the up – with many investors seeing it as a favourable alternative to traditional assets like stocks or even property.
But why is whisky seeing such a surge in popularity? And how can you go about investing in your own barrel?
"Through Covid and lockdown, some people had a little more money to spend because they weren't going out and didn't have that expenditure, so the whisky lovers of this world were spending a little more on bottles than they would normally," explains Sam Brooks, founder and MD of Vintage Acquisitions, which has been trading casks since 2011.
"Groups were set up online for people to share what they were indulging in and the enjoyment they were getting from whisky, and people have stuck to that level of buying since the world opened up again.
"There are consumers coming in from all over the world now: Asia is huge for us, we're having a big influx of consumers, collectors and investors. There are only 141 active distilleries in Scotland so there is not a huge amount of product to go around."
Why whisky is a worthwhile long-term investment
It might not make you a millionaire overnight but, by its very nature, whisky offers long-term gains: because nine-tenths of cask whisky is bottled before it reaches 12 years old, it follows that any older than that is in increasingly short supply. Plus the quality of cask whisky improves naturally the longer you wait, while also becoming more valuable.
"We can't offer the explosive growth of the crypto market but you also won't lose your money overnight," says Sam. "Whisky can't help but improve the longer it sits in the cask, it is as simple as that. And the older it gets, the rarer it becomes, so it is a very simple investment methodology to understand.
"So it's a fantastic vehicle, and it's capital gains tax-free because HMRC see whisky casks as a wasting asset, therefore it is not taxable.
"But it's a long-term strategy – it is not something you can put your money into and flip it every couple of years. It is something that you put your money into with a minimum term of five to 10 years really.
"That said, we are seeing casks double in value every 5 to 10 years. Some double in value in a shorter period of time, some take slightly longer, but over the last 12 years we have been trading we've seen that rule of thumb to be incredibly accurate."
How to start investing in liquid gold
The team at Vintage Acquisitions pride themselves on a transparent and easy-to-navigate purchase process that's rooted in integrity. They will only recommend casks that suit your investment aims and your personal circumstances.
"There are a lot of other firms out there which are brokers, but we're actually stockists," Sam adds. "We hold between £1 million and £2 million of stock that's ready to trade to our clients so they can benefit from the widest range of premium Scotch casks in one place."
Once you've selected your cask or casks, you can house it in one of their bonded warehouse accounts or choose your own options. You'll become a member of the exclusive Vintage Whisky Club, with access to distillery tours, tastings, hosted sporting events and much more – plus you will soon be able to store your barrels in Vintage Acquisitions' own bonded facility in Campbeltown in Argyll. The warehouse, will store 41,500 casks of whisky once operational and should be accepting casks by the middle of 2023. There are also plans for a bottling plant, a tasting room and even overnight accommodation so you can really make the most of your investment.
This all reflects the level of involvement from the team, who pride themselves on being more than just traders. When it's time to sell your cask, the company (which trades under the name of Brooks & Whitaker Limited) guarantee a buy back price and can even help you to bottle your whisky via its sister company Vintage Bottlers.
More money for you when you sell
Investments (with the exception of ISAs) are subject to capital gains tax: we all have a capital gains tax-free allowance of £12,300 per tax year, but everything over that incurs 20 per cent tax. In April, that threshold will drop to £6,000, and reduce to £3,000 from April 2024.
But whisky's classification as a 'wasting asset', something that has a lifespan of 50 years or less, means there is no capital gains tax to be paid when it is sold –and you get to keep the profit you make.
To download your free Whisky Cask Ownership Guide with everything you need to know to get started, visit the Vintage Acquisitions website at www.vintageacquisitions.com.
This is paid-for content on behalf of Vintage Acquisitions, and does not necessarily reflect the views or advice of NewcastleWorld. As with all financial investments, your investment may go down as well as up, and people are recommended to take financial advice.