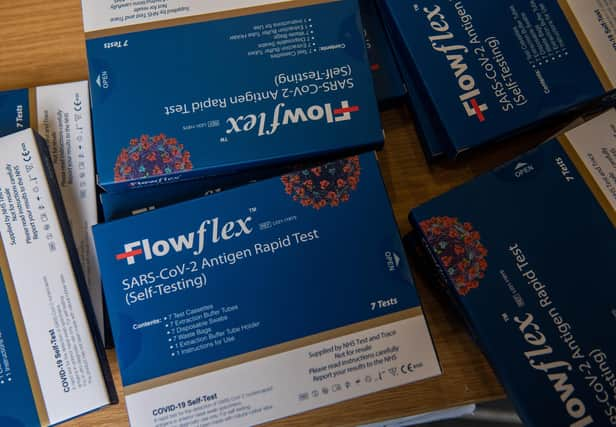 According to the latest Government data, over one million people are still being tested for Coronavirus across the UK every day and free test kits are available across Tyneside.
There are two types of test the public can use, Lateral Flow Tests (LFTs) which are preferred as a regular testing method can be conducted and registered from home, and Polymerase Chain Reaction (PCR) tests which are used if an individual has symptoms of the virus.
Where can I get a lateral flow test?
In addition to having tests sent to your your front door, LFTs are available to collect for free in pharmacies. Each box contains everything needed to conduct seven tests. including test tubes, liquid solution, swabs and the test cartridges which will show the result in addition to a full set of instructions.
City Library – New Bridge Street West, NE1 8AX
Superdrug Pharmacy – Northumberland St, NE1 7DF
Boots, Blackett Street – NE1 7AN
Boots, Hotspur Way – NE1 7XE
Boots, Northumberland Street – NE1 7DQ
Newcastle City Council at the Civic Centre – Barras Bridge Haymarket, NE1 8QH
Grainger Market Inspectors Office – Alley 2, NE1 5QQ
The Action Foundation – Melbourne Street, NE1 2JQ
Quayside Pharmacy – Crawhall Road, NE1 2BL
Boots – St. Georges Terrace, NE2 2SX
Shieldfield Pharmacy – Stoddart Street, NE2 1AN
Banks Pharmacy – Princes Road, NE3 5TT
Whittaker J and J Chemists – Wansbeck Road South, NE3 3HQ
Gosforth Library – Regent Farm Road, NE3 3HD
Asda Pharmacy – Hollywood Avenue, NE3 5BU
Meadows Pharmacy – The Meadows, NE3 3NA
Fawdon Park Pharmacy – Fawdon Park Road, NE3 2PE
Lloyds Pharmacy – Westgate Road, NE4 8AY
Lloyds Pharmacy – Beaconsfield Street, NE4 5JP
West End Food Bank, Bede Church – West Road, NE4 8AQ
West End Library – Condercum Road, NE4 9JH
Nuns Moor Pharmacy – Nuns Moor Road, NE4 9AU
West End Refugee Services – St Phillip's Vicarage, NE4 5JE
Whitworth Chemists – Elswick Road, NE4 8SL
West Road Pharmacy – West Road, NE4 9QB
The Health Resource Centre – Adelaide Terrace, NE4 8BE
Faran Chemist – Adelaide Terrace, NE4 8BL
Boots – Cruddas Park, Westmorland Road, NE4 7QY
Clyde Chemist – Armstrong Road, NE4 8PR
Westgate College – West Road, NE4 9LU
Riverside Community Health Project – Main Suite Carnegie Building, NE4 8XS
George Street Social – George Street, NE4 7JN
The People's Kitchen – Alison Centre, NE4 5SQ
Boots – Two Ball Lonnen, NE4 9RX
Boots – Denton Park Health Centre, NE5 2QZ
Boots – Stamfordham Rd, NE5 2LH
Fairmans Pharmacy – Unit 2, NE5 4FB
Lloys Pharmacy – Chapel House Health Centre, NE5 1LJ
Blakelaw Pharmacy – Moulton Place, NE5 3RL
St Martins Centre – Roman Avenue , NE6 2RJ
Walker Pharmacy – Welbeck Road, NE6 2PB
Lloyds Pharmacy – Welbeck Road, NE6 2NY
Asda – Newcastle Shopping Centre, NE6 2XP
Boots – 11 Church Walk, NE6 3DP
Walkergate Pharmacy – Walkergate Park, NE6 4QD
St Stevens Pharmacy – Heaton Road, NE6 1SA
St Anthonys Pharmacy – St Anthonys Road, NE6 2NN
Boots – Shields Road, NE6 1DN
East End Food Bank, Heaton Baptists' Church – Heaton Road, NE6 5HN
East End Library – Shields Road, NE6 1DL
Building Futures East – Treetop Village, NE6 3JW
Molineux Pharmacy – Molineux Close, NE6 1SG
Boots, Chillingham Road, NE6 5LL
Kerr Pharmacy – Shields Road, NE6 1DR
East End Food Bank, St Silas Church – Clifford Street, NE6 1PG
Lloyds Pharmacy – Benton Road, NE7 7EE
Lloyds Pharmacy – Etherstone Avenue, NE7 7JW
All information is correct as per the NHS website, although some sites may run out of tests depending on demand.
Where can I get a PCR test?
Although PCR tests are available to order online, there is also one bookable PCR test site in the city at the time of writing. This is the walk-through test site at Castle Leazes Car Park. More may become available.
The result notification following a PCR test should not take longer than 24 hours to be sent to either a mobile phone, email address or both, although it can take up to three days during busy periods. This has been the case as more people recieve tests as a result of the Omicron variant and the resulting spread.
PCR tests have been shown to be more reliable than Lateral Flow Tests, and are also recommended if the person in question has symptoms of the virus while LFTs are for regular asymptomatic use.
It is recommended that PCR tests are taken twice per week to ensure a positive case is not able to continue to spread the virus.
New rules which were introduced on 5 January mean anyone who tests positive with a LFT does no longer need to get a PCR test to confirm the case if they remain asymptomatic. Anyone with symptoms will still need to get a PCR test, as per the testing rules which were put in place by the Government.
Where can I get tested so I can travel?
Although travellers need to pay for their tests upon re-entering England, there are a series of options depending on the nation the traveller left. All information regarding international travel can be found on the Government's website.