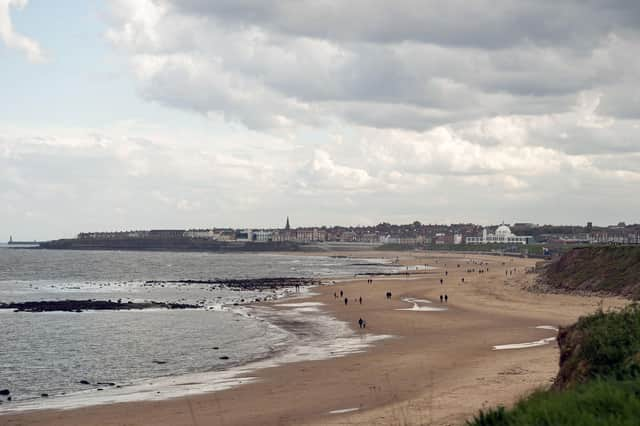 The results of the newest set of data from the Enviroment Agency looking at the quality of beaches across the UK was released on January 19 and and 17 of 18 beaches across North Tyneside and Northumberland are listed as suitable for bathing.
Ratings given by the agency are released as part of a star system, with beaches receiving one, two or three star rating considered to be suitable for bathing while beaches without a star rating are recommended to be avoided by swimmers.
Only one beach was not given a star in the region – Cullercoats Bay Beach, which has failed to pass inspections every year since 2018. The rating is due to the reduced quality of water towards the latter end of the bathing season. This has been put down to sewage while the unique type of limestone and sandstone which create arches around the bay have shown to cause elevated levels of bacteria.
The full report says that further investigations are being carried out across the site with work continuing until the Environment agency see improvements in quality.
It is one of eight bathing areas in England where advice is to avoid the areas of water.
Elsewhere, other beaches to the south of the region have been rated well, with Tynemouth King Edwards Bay, Long Sands South and Long Sands North all being given top marks in addition to Whitley Bay Beach.
All beaches across the stunning Northumberland coast have also been awarded a three star 'excellent' rating with the exception of Newbiggin South Beach, which was awarded a two star 'good' rating.
The beach had a three star rating until 2019 when its classification was reduced,although it is still considered to be a very safe area to bathe.
Beaches at Seaton Sluice, Blyth, Newbiggin North, Druridge Bay North and South, Amble Links, Warkworth, Low Newton, Beadnell, Seahouses, Bamburgh Castle and Spittal near Berwick were all given three star ratings.
This year marks the first release of bathing quality information since 2019 due to the Coronavirus pandemic and samples were taken weekly throughout the summer of 2021.