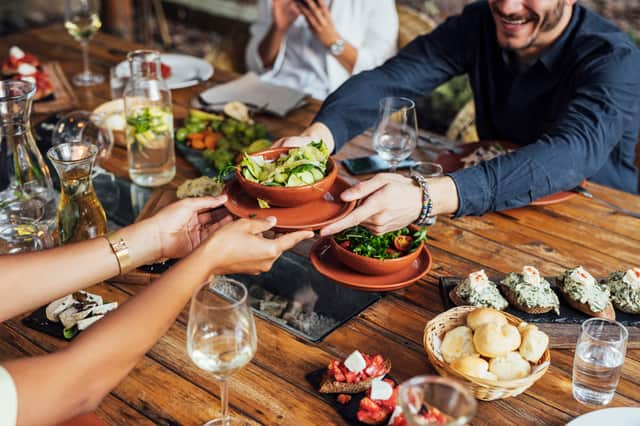 With the number of people following a vegan diet in the UK increasing by 40% in 2020, the business for meat-free eats is booming.
Whilst Newcastle may have built its culinary reputation on the simple joy of the sausage roll and award-winning steak restaurants, the food landscape in the city is shifting to reflect modern trends.
For those eating a vegan diet, or others simply wanting an animal-free meal, there are now plenty of options on Tyneside.
Newcastle World look over some of the best vegan joints in Newcastle.
Journey Cafe
7-9, Higham House, New Bridge St W, Newcastle upon Tyne NE1 8AN
Journey is a grass roots independent company that prides itself on its heritage, being built slowly over time with the help of family and friends.
The restaurant space was constructed by the team themselves and there's a Mediterranean inspired menu on offer.
As well as food, there are plenty of drinks, including cocktails.
Super Natural Cafe
27 Grainger St, Newcastle upon Tyne NE1 5JE
Vegan and vegetarian restaurant Super Natural Cafe keep it simple and tasty.
The classic sandwiches, paninis, jacket potatoes and salad are all popular.
There's also a tempting range of cocktails for those wanting a drink with a kick.
Vegano
33a Blandford Square, Newcastle upon Tyne NE1 4HZ
It's all going on at Vegano.
The restaurant serves right from breakfast to dinner with a wide variety of cruelty free food in a modern and cosy setting.
So whether you're after coffee and cake or a three course Italian inspired menu with a glass of wine, Vegano will have something for you.
Little Green
83-89 Goldspink Ln, Newcastle upon Tyne NE2 1NQ
Little Green is a family run, plant based cafe that you can find in the heart of Sandyford.
The cafe strides for innovative cooking and sustainability with a many focusing on the use of food fermentation and seasonal produce.
It's served up in a friendly, down-to-earth environment for all to enjoy.
The Ship Inn
Stepney Bank, Newcastle upon Tyne NE1 2PW
It's been all-change at The Ship Inn since 2016 and now this isn't any other pub.
There's a fully vegan food menu on offer including vegetable curry, falafel, burgers, all day breakfast and more.
The restaurant is a great social space too with books and board games available.
The Carriage
Archbold Terrace, Jesmond, Newcastle upon Tyne NE2 1DB
If you're a fan of The Ship Inn, then The Carriage is sure to be a hit too.
The pub shares the same owners as The Ship Inn and operates a fully vegan menu.
It's dog friendly too and has plenty of events going on from live music to pub quizzes.
Veganatomy
Hillgate Quays, Gateshead, Newcastle upon Tyne, NE8 2FD
Veganatomy take up residence at the idyllic By The River Brew Co on the Gateshead bank of the Quayside.
The pop-up serves Asian fusion food, vegan sushi and graze boxes.
You can enjoy all that whilst taking in the Tyne Bridge too.
Snackwallah
42-43 Grainger Market, Grainger St, Newcastle upon Tyne NE1 5QG
Walking through Grainger Market, you'll often smell the aromas of Snackwallah drifting through the building.
The takeawy makes vegan curries and authentic Chaat dishes.
It's all for bargain price too, with dishes from just £3.
Karma Kitchen
6 Bigg Market, Newcastle upon Tyne NE1 1UW
If you do have a penchant for an Indian dish, Karma Kitchen is another great option.
The family run vegan kitchen is headed up by two sisters and their mum.
As well as operating as a restaurant, Karma Kitchen deliver right across Newcastle and send make-your-own curries nationwide.
Tea Sutra
1st Floor, 2 Leazes Park Rd, Newcastle upon Tyne NE1 4PF
Tea Sutra is a unique find in Newcastle, providing beauty treatments as well as opearting as a cafe.
The tea house specialises in the hot brews but also serves vegan lunch and soup from 12 - 3 pm.
If you miss those slots, there's cakes on the go all day, which you can enjoy in a cushion-only seating area.