Côte announced a brand-new restaurant design across all UK restaurants, promising guests an elevated dining experience. The interior is classic while also modern, french-inspired and elegant.
Normandy artist Claire de Quénetain has ensured that the spirit of France is reflected in the UK restaurants. Bespoke artworks adorn the walls, while a brand-new bar promises a stylish and informal space.
The brand-new French inspired interior and design within the venue is not the only recent addition to Côte Newcastle however, as they have also introduced an all-new menu, created by new Executive Head Chef, Steve Allen.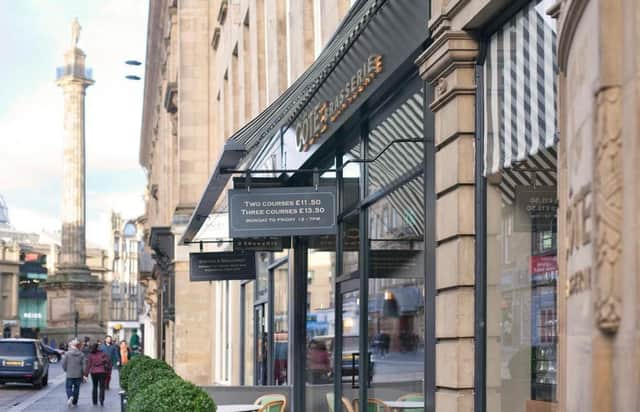 To coincide with the September opening, Côte Newcastle has also revealed a Autumn Specials menu. The menu is heavily influenced by the slower pace of autumnal living, known as La Rentrée in France, a cosy tradition celebrated between family and friends after a summer apart.
The menu includes, Fig and Bayonne Ham salad, served with Roquefort dressing and beetroot and Moules Normande, served alongside sautéed leeks, British Granny Smith apples and an organic Normandy cider cream sauce, both of which can be enjoyed as a starter or main course.
Another addition to the menu is the Pork Tomahawk, with meat sourced from the family-run Dingley Dell in Suffolk and served with luxurious truffled potato purée, roasted garlic, crunchy French beans, and a smooth Calvados apple jus.
Desert is an almond financier: a delicious baked French almond cake with blackberry compote, vanilla ice cream and salted caramel sauce. Guests can also enjoy a glass of Orchard Sidecar, made with SASSY Calvados, Cointreau, and lemon juice.
Laura Dunbar, General Manager at Côte Newcastle, said: "We're looking forward to offering our guests a revitalised restaurant when we reopen on the 1st. Guests have already been enjoying new and reworked dishes on our core menu, and now we'll be able to offer them an even more elevated dining experience with a brand-new space and Autumn Specials menu we think they'll love."
Côte Newcastle will be open from today, September 1. Their venue is located on Grainger Street, in the centre of Newcastle.