Chart House, a brand-new 'sea and spice' bar and restaurant will welcome customers in September.
The new venue is inspired by the Maritime Spice Route, and will feature bespoke cocktails alongside a menu evoking taste of the Mediterranean, Arabian and South China seas.
The menu will offer both large and small plates, expertly crafted by experienced chefs, using high-quality ingredients. Head chef Matt Watkins wanted to reflect the exotic sights, smells and flavours from the destinations on the Maritime Spice Route to create an immersive dining experience and Chart House.
He explained: "Chart House aims to impress our guests with great food and excellent service. The haul of spices and exotic ingredients that might have filled merchant ship's holds are peppered throughout our menu, taking taste buds on a mouth-watering adventure."
Overlooking the River Tyne, the newly refurbished Quayside venue promises a relaxing and memorable experience.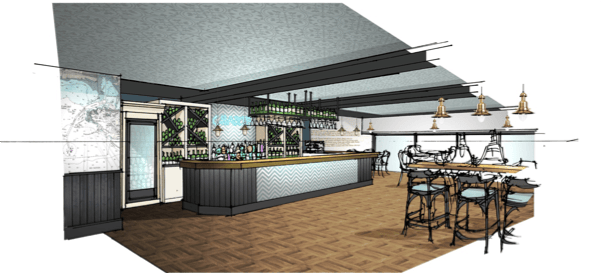 Chart House is owned and operated by Pub Culture, a hospitality leisure group specialising in creative hospitality. Chart House is their newest addition, alongside various venues in Sunderland.
Rhys McKinnell, CEO of Pub Culture and former director of restaurants at Fenwick, said: "When I joined Pub Culture back in September last year, I was immediately excited about the huge potential for Chart House and its location.
Delving deep into what customers are looking for and where the opportunities lay, we knew we could bring our expertise to introduce a distinctive concept to Newcastle."
Chart House is one of the very few buildings that survived the devastation of the 1854 Great Fire of Newcastle and Gateshead - which destroyed most of the Quayside. The Grade II listed building still has its original name on the brick wall, at the front of the building. With such a rich history, Rhys wanted to respect the building's past. He was inspired by the history of Chart House, and incorporated it into the rebrand and refurbishment.
London based design house 01 Creative helped to design the interior. The founder of 01 Creative, Stephen Richardson is originally from Newcastle. Rhys said: "Stephen has indeed helped to capture the spirit of this project and designed an exceptional interior for this remarkable listed building."
The venue will be adorned with carefully selected sketches and artwork reflecting the building's former purpose and past. Inside, the venue will host a ground floor bar, pavement terrace, full scale sea chart murals, a first-floor mezzanine with a luxurious and relaxing lounge and an elegant dining room.