The best cocktail bars in Newcastle city centre - from Jalou to Tiger Hornsby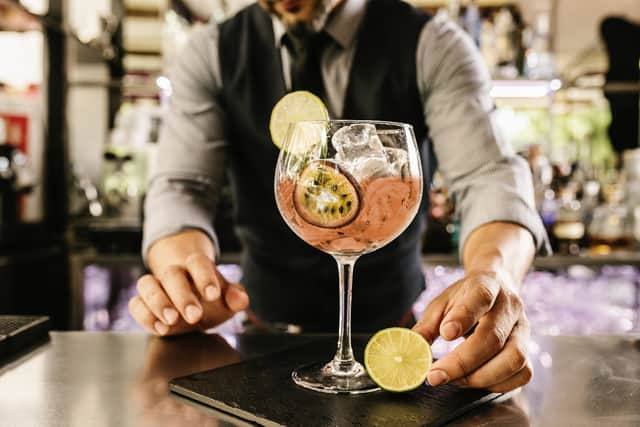 There's nothing better than a night of trying new cocktails or discovering new bars!
So to help you find a place you love, we have rounded up five of our favourite cocktail bars that are unique to Newcastle - and the best thing is, they are all located in the city centre so you can have your own cocktail bar crawl.
Jalou
Known for: Their Cookie Monster cocktail.
Bright blue and decorated as the Cookie Monster this cocktail is an Instagram favourite and is made with chocolate cookie syrup, Stoli Vanilla vodka and Baileys, topped with white chocolate flavoured whipped cream.
Must try cocktails: Bueno Surprise: Inspired by everyone's favourite chocolate this cocktail is a blend of Stoli Vanilla Vodka, Frangelico, chocolate hazelnut sauce and cream. Served alongside a shot of boozy chocolate and a Bueno surprise.
The Bee-yonce: This drink runs the cocktail world! Made of Cazcabel Honey, apple liqueur and honey syrup all shaken with apple and lemon juice and topped with a honey foam and dusted with activated charcoal. You'll be Crazy in Love with this cocktail after one sip.
Rhubarb and custard: This cocktail is Jalou's take on the classic flavour we all know and love and contains homemade rhubarb syrup shaken with Ketel One vodka, raspberry liqueur and cranberry juice, topped with vanilla cream and a sprinkle of raspberry dust.
Cocktail deals: Half price Thursday
Aveika
Location: Sandhill, Quayside
Known for: Their Godzilla cocktail.
This cocktail is Aveika's best seller and is made of Kiwi fruit and Midoria mixed with Rhubarb and Ginger liqueur.
Must try cocktails: Pink slipper: If Cinderella was to order a cocktail in Aveika, this would be it. This elegant cocktail contains Absolut raspberry vodka blended with Amarula, fresh raspberries, candy floss syrup and cream.
Kiss of the dragon: A light and fruity cocktail with Ketel One, Apricot, Passoa, Cranberry and a slice of dragon fruit.
Last mango in Paris: A fresh, mango-based cocktail made with Ketel One, Chambord, Mango Puree and Lime and Mango syrup.
Cocktail deals: Aveika don't disappoint with their sharer cocktails, choose from a Pornstar Martini, Sangria, Aperol Spritz or Pink Gin Sharer and for only £29.95 these cocktails are perfect for groups or individuals who don't want to keep going back and forth to the bar.
Central Oven and Shaker
Location: Neville Street, Central
Known for: TheNetflix and Chill cocktail.
Salted caramel Stolichnaya vodka, Mozart white chocolate liqueur, popcorn syrup and cream.
Must try cocktails: Watermelon sugar high:
This cocktail is made with white rum, lime juice, fresh watermelon, watermelon syrup and mint with a watermelon slice to tie the drink together. Even Harry Styles himself couldn't resist.
If you have a sweet tooth this cocktail is perfect for you! Made with Vanilla Stolichnaya Vodka, strawberries, cream, strawberry and vanilla syrups and mascarpone, all decorated with a biscuit rim.
Central Oven and Shaker have a range of cocktails that experiment with sweet flavours and ingredients and the Penelope Pit Stop is no different. With Vanilla vodka, white chocolate liqueur, grenadine, fresh raspberries and hundreds and thousands added for decoration.
Cocktail deals: All cocktails £11.95 or buy one get the same one free.
Or why not try a Cocktail tree with your friends! You can choose 6 cocktails for £30, 8 for £40 or 12 for £60.
Tiger Hornsby
Known for: Off menu cocktails
If you've had a creative idea for a cocktail or if your favourite just isn't on the menu, not to worry as the staff at Tiger Hornsby will still make it for you, all you have to do is ask.
Chilli Jam: This cocktail really will add a kick to your night! Made with Sloe Gin, Smirnoff Vodka, Frais De Bois, cranberry juice, homemade strawberry syrup and 1 rocket chilli, this cocktail is definitely not for the faint hearted and is guaranteed to spice up your night.
Geordie Gin Fizz: Perfect for pink Gin lovers, this cocktail mixes Gordons Gin, Passion fruit syrup, pink grapefruit juice, citrus and lemonade to bring you a fruit filled cocktail.
Chocolate orange: Just like the chocolate, this cocktail is a Tiger Hornsby classic. Made with just three ingredients, Baileys original orange liqueur, Belgian chocolate and milk. This cocktail is for serious chocolate lovers!
Cocktail deals: Every day until 7pm, Tiger Hornsby offers a selection of cocktails all for £5!
They also offer buy one get one free all night from Monday – Wednesday.
Leila Lily's
Known for: Experimental cocktails and floral decor.
If you're looking for a classic cocktail menu then Leila Lily's is not the place for you as they are all about creativity and reimagined classics. Each cocktail experiments and pushes the boundary for what we expect, creating a menu that is truly out of the ordinary.
Some of their 'classics' include Watermelon sugar wine and Pretty in Pink, which are both versions of a Sangria, Champagne Melba which is based on peach melba and Gin and bear it which reinvents the Pina colada.
Must try cocktails: Pink Mad Hatter: This Alice in Wonderland themed cocktail will have you feeling like you've been transported to the Mad Hatter's tea party. Made with Brockmans Gin, Velvet Falernum, blueberry gomme, Lillet Blanc and topped with a magically infused purple lychee juice.
Eva Rose: With every Eva Rose purchased £1 is donated to Daft as a Brush, which makes it a must try for anyone visiting Leila Lily's.
Made with Red Berry Ciroc Vodka, Lanique Rose liqueur sweetened white grape juice and gently chilled with a lychee & rose bud ice ball.
Cocktail deals: Masterclasses
Leila Lily's offers cocktail masterclasses, starting from £19.95 per person, which are great if you are looking for a fun and unique way to celebrate something with your friends.