Review: Here's why everyone's talking about Dosa Kitchen
It's hard not rave about their amazing food.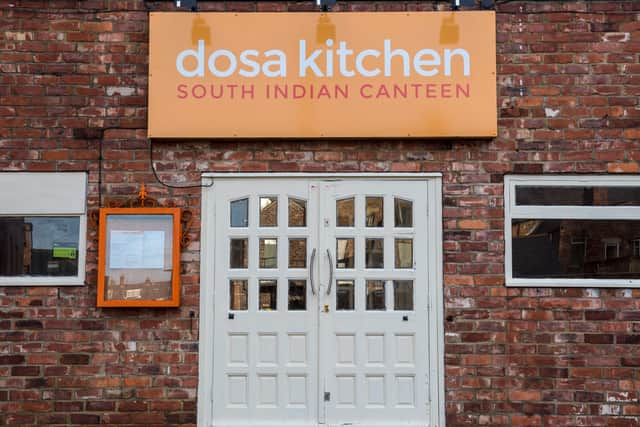 Hidden on Osborne Road is probably the best Indian food on offer in Newcastle.
South Indian food, to be exact.
It's a cuisine many of us have become overly familiar with: kormas, masalas, rice and naan are staples in everyday eating. But Dosa Kitchen opens your eyes slightly wider, making you realise there is so much more on offer.
The restaurant was in the news recently after A Place in the Sun's Jonnie Irwin raved about it on Instagram writing the food is "without a doubt the most authentic South Indian cuisine I've eaten outside of the subcontinent."
Jonnie continued: "If you're in the northeast then check it out. It's not just about the Dosa but you'd be nuts not to have one on the side."
The restaurant is also frequented by Si King of the Hairy Bikers, whose photo lovingly hangs on the wall as you walk in.
I had never crossed paths with a Dosa before, but now I can't envisage eating Indian food without one. A thin, crispy crepe that's perfect to dip into every curry. Our Dosa of choice was coated in ghee but also on offer is a range of fillings if you're after something more.
Everything we ate was incredible, full of depth and flavour. The chilli chicken starter was a fusion of Chinese and Indian spices in a tangy and sticky sauce. Pakoras are done differently here too. Instead of a conglomerate of onions, they use less flour and less dough so each strand is free and coated completely in chilli, corriander and curry leaves. Now, those onions I'd happily put on top of every dish.
For mains, the Paneer Thokku Masala was mindbogglingly good. But the catch of the day curry, Pondy Meen Curry, finds itself on top of this food chain. Caught fresh every day in North Shields, the Coley was silky and flaky and infused the already rich sauce with another layer of flavour.
If you find yourself with any room, try the Coconut & Masala Brownie with pistacio ice cream- there is no better combination.
To put it simply, this was a perfect meal.