A delicious, juicy good burger is good on any day, but with National Burger Day approaching (it's tomorrow, FYI) we are even more excited to get our hands on them! Whether you're a meat-lover, after some cheesy goodness or looking for something plant-based, we have found some of the most wonderful burgers in Newcastle.
Fat Hippo has announced that every hour will be 'Hippo Hour' for National Burger Day. This deal is usually only available on weekdays, between 5pm and 6pm, but it is running for the whole of National Burger Day, at all dine-in restaurants including Newcastle. The offer includes two courses for £15, or three courses for £17.50. They have also announced that there will be a secret new burger released tomorrow to celebrate!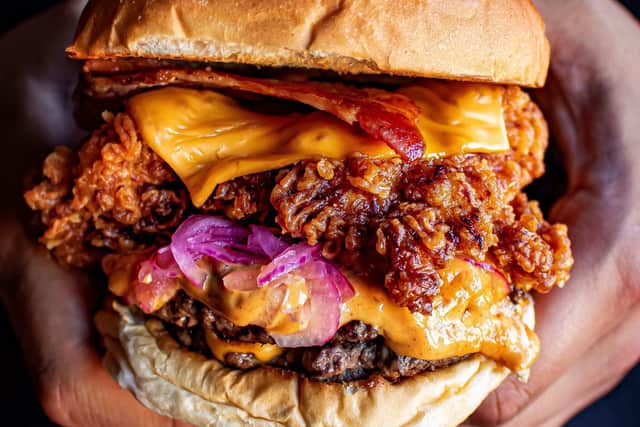 Instead of a discounted offer, Meat Stack have decided to celebrate National Burger Day by adding a special, enormous burger to their menu. It is called 'The Double Double' and includes four salt aged beef patties, smoky mountain mayo, house green relish, raw onion, lettuce and chipotle bbq. It sounds absolutely heavenly, and you are sure to be bursting to the brim after finishing it. Meat:Stack posted to their Instagram page: "It's probably too big, it will cause chaos on the grill but that's just how it comes. Not available in any other size. SOZZA." The burger is only available for one day.
Burger Drop is home to 'craft burgers', meaning that their burgers are always a little bit different to the usual. They have a 'cheese and mushroom' burger, vegan burgers, and are constantly dropping new variations, all for under £10. Most recently, they created a menu called 'Burgers from around the world', which included the 'texas smoked brisket', and 'chinese salt and pepper'.
If you're after something a little wacky, look no further! Burger.East.Shake.Repeat (known as BESR) are known for their weird but wonderful burgers. They have recently announced a new one to celebrate their 2nd birthday, which is 'It Takes Two'. The burger includes a 8oz beef patty, crispy chicken melted with cheddar cheese, served with lettuce and onion, topped with garlic and bbq sauce, in a red bun with two onion rings on the top! It is definitely a combination of the most delicious ingredients, and most certainly unique.
The burgers are so delicious at Brack Burger, that it even attracts Love Island stars! Adam Collard and Paige Thorned dined in the Jesmond venue recently. But SOHO Jesmond isn't it's only location, as you can experience Brack Burger in The Jubilee Gosforth, Ouseburn Garden, Tynemouth Surf Cafe and Central Park. They serve a variety of beef burgers, such as 'PB & Perry' with chilli jam, and 'Blue Suede Cheese' which includes blue cheese.
Lastly, the Tanners Arms opened a street food outlet named the Scranners Arms in lockdown and it is still thriving. They have plenty of food options but their burgers are to die for! Alongside usual classics, they have the 'Flamin 'Eck Burger' which is made with spicy ingredients, and more! They also have a selection of 'Byker fried chicken' burgers, which have amazing northern names such as the 'Chido Charva', which is made with crushed nachos and Pico De Gallo, and the 'Radgie Chicken Burger' which has sriracha mayo and sweet hoisin as the sauces. The burgers are bursting with flavour, and northern love.