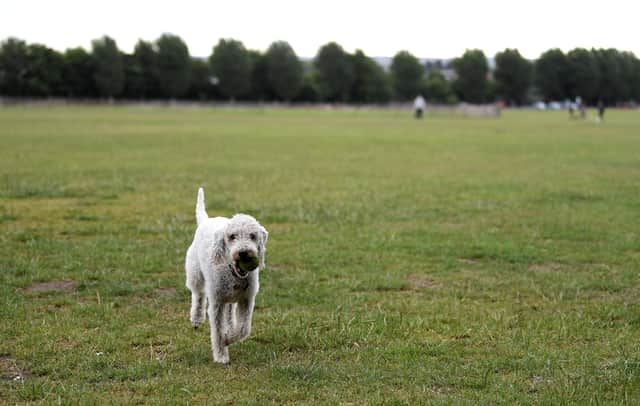 But where are the best places to walk your dog in the region this spring?
Dogs love going on walks whatever the weather, but the warmer Spring days are great for owners, and these are our top tips for places to go at this time of year.
Away from traffic, on the banks of the Tyne and plenty of paths so no walk needs to be the same – Walker Riverside Park is ideal for dogs and owners alike.
The site boasts a large car park for easy access as well as routes which can see dogs head east up Hadrian's Way for stunning sunrise views in the morning or west where owners can pick up a drink at St Peter's Marina before heading back. With no true start and end point, it is ideal for those who like to vary the lengths of their walks.
Park of the walk also follows National Cycle Route Path 72 for anyone who can ride with their dog in tow.
Easy to reach from the city centre, yet tucked away enough for pets to get away from the hustle and bustle of city living this path on the Gateshead side of the Tyne starts at the Swing Bridge and walkers can head west for as far as they want.
Observing the city from afar, there are also plenty of photo opportunities if the evening sun sets in a cloudless sky over the river.
Those looking for a long walk with a stop halfway can walk to The Staiths Cafe before heading back up the riverside.
Perfect for dogs who don't mind getting their paws wet, this park between Jesmond and Longbenton has a small boating lake as well as a large play area for kids.
Ideal for a quick morning walk before work, the park has paved paths throughout, meaning your pet shouldn't get too dirty on those muddy mornings!
Anyone wanting to extend their walk can head through the trees to the west and head to…
One of the best known open public spaces in the city, Jesmond Dene has something for everyone. From a children's play area to the Jesmond Food Market which sets up along Armstrong Bridge two Saturdays each month, in addition to a series of paths which spen the length of the site.
As Spring approaches, the area springs into life with the huge variety of plants preparing for the warmer weather.
Fans of long walks can start at Ouseburn's City Stadium before crossing Newington Road and approaching the park from the south, heading north as far as they and their pet are willing to go.
Tyne Riverside Country Park
A site full of meadows, woodland and riverbanks, Tyne Riverside Country Park near Throckley is a dog walker's paradise.
Away from any reminders of the city centre, the site offers a spot to unwind while your dog makes the most of the wide open spaces and variety of surroundings.
The site is also home to another stretch of Cycle Route 72, meaning walkers can head whichever direction they please and still find safe paths.