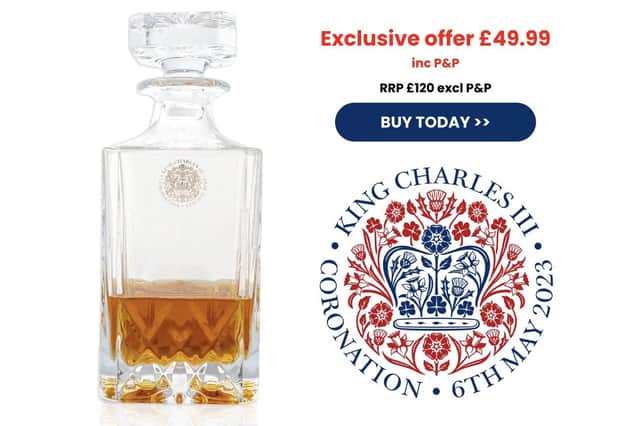 For just £49.99, with free postage and packaging, you can own this magnificent square crystal decanter adorned with the royal crest.
This is a remarkable saving of more than £70 compared to the retail price of £120 (excluding postage and packaging).
This exquisite boxed celebratory decanter is the perfect way to honour the ascension of King Charles III to the throne.
Crafted with precision and elegance, it showcases the timeless beauty of crystal glass, making it a true collector's item.
The decanter has a generous capacity of 700ml, allowing you to store and display your favourite spirits in style.
Whether you prefer a measure of Scotch or whisky, this commemorative decanter will accentuate the rich amber hue of barrel-aged drinks, adding an extra touch of sophistication to your drinking experience.
Please note that the decanter should be hand washed to maintain its pristine condition. It comes securely packaged in a beautiful box, making it an ideal gift for royal enthusiasts or collectors of fine glassware.
Don't miss out on this exclusive limited edition offer to commemorate the coronation. Take advantage of this exceptional deal and secure your piece of history today
Retail Price: £120 (excluding postage and packaging)
Special Offer Price: £49.99 (including postage and packaging)