Sky-high views, exceptional service and now, a brand-new à la carte menu, promising customers a culinary experience of taste from around the world!
3SIXTY lounge, located in Newcastle's tallest building, Hadrian's Tower, is the most ideal place to enjoy a relaxing evening of food and drinks in Newcastle, while being able to take in beautiful views of Tyne and Wear. It is Newcastle's first and only sky lounge, and has proven to be a hit with the residents of Newcastle since opening in May 2021.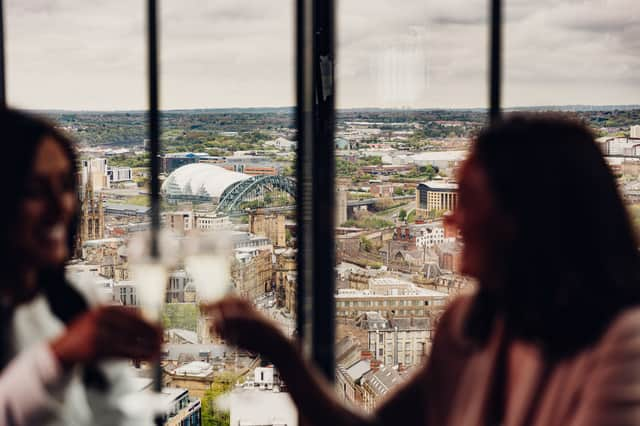 The new à la carte menu has been designed specifically to ensure that customers can enjoy a lavish, seasonal meal. The menu includes a list of cuisine from different cultures and flavours. Dishes from the menu include, Pan-Fried Scottish Scallops, Black Ink Linguini and 48 Day Aged Wagyu Sirloin Steak. Small dishes are also available, and they include Korean Pork Bao Buns and Lasagne Bites, while large dishes include Himalayan Salt Aged Rib Eye and Wild Mushroom Risotto.
A wine list is also on offer, with a wine to complement each dish, sourced directly from the vineyards of Tuscany, Italy and Australia.
The new à la carte menu inspired by and courtesy of Head Chef Bruno George Chapin, and his global culinary journey. Originally from Angola, Luanda, Head Chef Bruno prides himself on his exceptional attention to detail and presentation of food. Bruno is looking forward to providing his culinary expertise to 3SIXTY.
'I'm sharing my experience and the exceptional flavours'
He said: "Every chef brings their own interpretation of culinary experiences to the kitchen and for this menu, I'm sharing my experience and the exceptional flavours I've had the honour of tasting over the years. I couldn't be prouder to bring my inspiration from around the world, and some innovative techniques I've seen in London to 3SIXTY in Newcastle."
Matthew Foster, marketing director of One Collection Group, which owns 3SIXTY said: "We're very impressed with the new menu, its exceptional flavours and how it resembles 3SIXTY's aesthetic, striking personality, views and atmosphere.
We are lucky enough to have the most perfect panoramic views of the city, and our new culinary offering will give guests an even greater experience. With sky-high dining, the views speak for themselves, and now our new menu is a proud celebration of global cuisine that puts seasonal and local produce at centre stage."