The joy that comes from the taste of a Christmas dinner, is unlike anything else. While we are all counting down the days til we can fill up on pigs-in-blankets, there are plenty of Newcastle restaurants offering a festive menu right now.
Whether you are having an early Christmas party, are currently looking for somewhere to book on the big day, or you're just in the mood for a lavish festive meal - we have found the best places to enjoy a festive meal in Newcastle.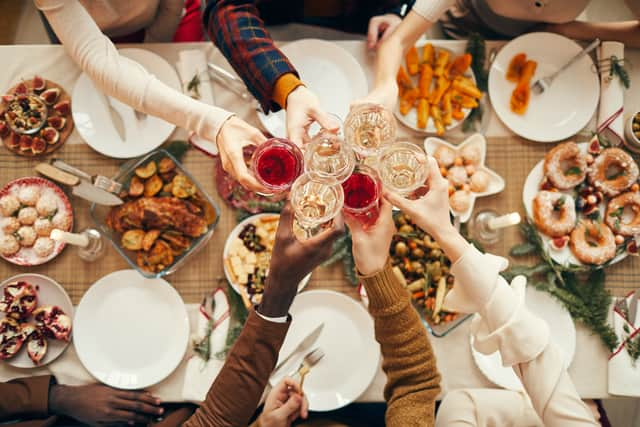 Marco Polo
Marco Polo, a large Italian restaurant located on Dean Street, is offering an exciting yet affordable festive menu. They are offering two courses for £21.95, or three courses for £24.95. Starters on the menu include, smoked chicken and white bean soup, salmon crostinis, spiced plums and seared fillet steak. Mains include topside of beef, honey roasted gammon, roasted butternut squash risotto and a tuscan stew. To finish the meal, desserts include sticky toffee pudding, a hazelnut chocolate pot, pear and almond frangipane and sorbet. Marco Polo takes bookings of 50 plus guests, so it is the perfect place for your work Christmas party!
The Silk Room
The Silk Room, which can be found on Newcastle's Quayside is a restaurant and champagne bar. They are offering a festive menu for £26.95 for three courses, or £36.95 for three courses and their festive cocktail. Starters include; prawn cocktail, chicken pate, carrot and sweet potato soup and clementine sorbet. Mains include, a slow roasted Northumbrian lamb shank, chicken breast, sea bass fillets and asparagus and pea ravioli. Desserts include; rocky road brownie, raspberry and passionfruit cheesecake, nutella banoffee pie and lemon and vanilla tart. The cocktail picked specially to complement the menu is a raspberry gin fizz prosecco cocktail. A deposit of £10 per person is required, as is pre-ordering.
The Botanist
The Botanist, which sits right in the centre of Newcastle, opposite Grey's Monument, is getting right into the spirit of Christmas, with a festive menu and festive drinks packages on offer. The festive menu is available from November 21 until Christmas Eve. The prices depend on peak and off-peak time. Two courses start from £27.95 and is only available till 4pm. Three courses start from £34.95. Starters include; chicken liver and brandy pate, goat cheese and prosciutto and roast butternut squash soup. Mains include; turkey hanging kebab, baked salmon, ribeye steak and chestnut and truffle pot pie. Finally, desserts include; "christmisu" a creation combining christmas pudding and tiramisu, raspberry and almond frangipane tart and chocolate orange millionaires cheesecake. A deposit of £10 per person and pre-ordering 14 days in advance is required.
Harry's Bar
Harry's Bar, which is located on Grey Street has a special festive menu named Christmas Fayre menu. It will be available from November 28 till Christmas Eve, however prices will rise from December 5. Prices start at £24 for lunch, and £29 for dinner, depending on the time and date you choose. Starters include; leek, spinach and potato soup, camembert, mushroom bruschetta, pate, and prawn cocktail. Mains include; turkey, beef, ravioli, butternut squash, salmon, and pork belly. Desserts include; christmas pudding, sticky toffee pudding, apple crumble and custard and lemon cheesecake. However, you can choose to forgo pudding and take a shot of Sambuca instead!
Miller and Carter
Finally, renowned steak-house Miller and Carter are offering a festive menu. You can find their Newcastle restaurant on Mosley Street. Always ready to impress, Miller and Carter have not one, but four festive menus! They have a usual festive menu, a Christmas Day menu, a Boxing Day menu and a New Years Eve menu. For the festive menu, prices and the full menu are still under wraps, however what we do know is that it is available from November 23 until Christmas Eve, and a deposit of £5 per person is required for tables of five or more.