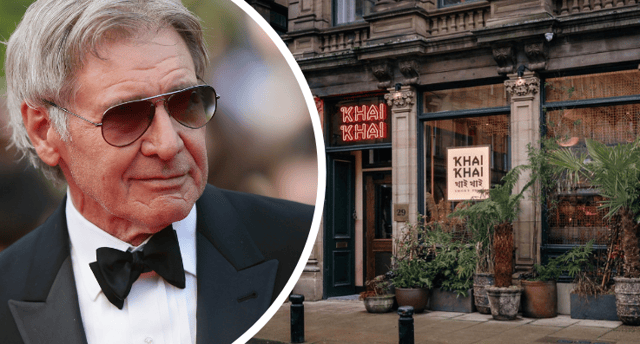 Imagine looking up from your lamb Roganjosh, sauce all around your chops, to lock eyes with a Hollywood A-lister.
In Newcastle, you might think a situation like that impossible, the city's location meaning locals can enjoy a dinner out a million miles away from the hubbub of Los Angeles.
However, at one restaurant down on the Quayside, there is a chance you might run into some stars of the screen.
The eatery in question is revered Indian restaurant Khai Khai on Queen Street.
Khai Khai specialises in offering something different to the usual curry house and prides itself on its Indian authenticity.
The restaurant uses "elemental cooking techniques and heritage dishes perfected in villages and culinary hotspots across India since the dawn of time".
That mantra has earned Khai Khai an average of 4.5 stars on TripAdvisor and a fantastic reputation in the city.
As a result, the restaurant is attracting more than just the usual Geordie Crowd.
Earlier this year, none other than Harrison Ford was spotted eating at the Indian.
The Oscar nominee was in Newcastle filming for the upcoming Indiana Jones film and decided to fuel up at Khai Khai.
The delighted restaurant staff posed for a photo with Ford, which they later shared on their Instagram.
The post read: "A STAR STUDDED LUNCH - today we welcomed Hollywood legend Harrison Ford to Khai Khai.
"Mr Ford is in the region, filming Indiana Jones 5. During a break from filming he took a trip to Newcastle's Quayside and stopped by for lunch.
"Was so lovely to meet him."
Harrison Ford isn't the only celeb to have been spotted eating at Khai Khai either.
Newcastle United legend and Match of the Day pundit Alan Shearer has also been seen tasting the restaurant's goods.
The stars must have a taste for spice, as the Indian restaurant is known for its fiery curries.
One TripAdvisor reviewer recently wrote that the restaurant was "too spicy" for them.
They said: "The first time we went it was fabulous. Everything freshly cooked and tasted delicious. The second time it was like everything needed to be coated in a thick layer of chilli powder. I don't mind a touch of chilli but this was ridiculous. Things that would ordinarily be fried and tasty were coated in a layer of chilli. Sadly, wouldn't go back."
However, most reviewers tend to love the Khai Khai experience and praise the chefs' flavours.
One recent customer wrote: "Flavours of the food we had were insane. We were the last to leave on Friday evening and was that good went back for lunch Saturday. Lunch menu different and just as good. Also best value for money meal we have had in Newcastle. Service was great too. Thank you!"