Greggs has made sausage rolls and pasties a certainty on every high street in the country.
And with 150 new Greggs stores announced, the bakery is continuing on its path as the UK's most-loved bakery.
However growth can sometimes mean change. And, god, has the Greggs menu changed over its 80 years.
When the vegan sausage rolls burst onto the scene in 2019 some people were confused and outraged. Now, they're a much loved and accepted part of the Greggs brand.
But what about the products which have been left behind: discontinued and perhaps forgotten?
Or, what about the items you miss and still think about every time you walk towards the Greggs counter?
The vegetable bake returned from oblivion this week so there's a good chance your one that got away could return.
Here is a list of Greggs products you won't find in stores anymore.
Ham and pease pudding stotties
One Twitter user recently hit out at Greggs for discontinuing the beloved and traditional stottie from North East stores, commenting: 'Unfortunately you stopped doing them and turned your back on your heritage.'
Like most of these items, it was binned twice due to a lack of popularity. But many seem to think its presence in the stores is historically necessary.
Steak and cheese roll
Disappearing in 2019, the steak and cheese roll was a cult favourite because of its Stilton cheese and shredded beef centre.
Rosie on Twitter even went as far to say: 'Greggs have got a bloody cheek, talking of opening 150 shops when they can't even be bothered to bring back the steak and cheese roll...'
The Greggsnut
The unfortunately named Greggsnut was launched into stores in 2013. Their take on the cronut- a cross between a croissant and donut- it was flavoured with caramel and peacan and was a firm favourite among many sweet tooths.
In a reply to a complaint about its removal from shelves, the Greggs team said they'd pass the comments onto the retail team but couldn't make any guarantees.
Meat and potato pasty
The meat and potato pasty was a staple for so many people, with one Twitter user saying they'll be 'boycotting Greggs' until the delicious bakes are reinstated. Now, that's dedication.
Festive pizza
Now this one sounds... interesting. Apparently the festive pizza used to grace the counters along with the much-loved festive bake. The exact same ingredients as the pasty, but on top of a slice of Greggs pizza.
Ham and cheese pasty
Christopher Eccelston's choice (see below) of pasty, the combination of gooey cheese and ham was classic. Unfortunately the pasty hasn't been seen since around 2015.
Bread
Greggs used to sell fresh bread along with stotties but stopped in 2015 because they wanted to move towards 'on the go' products.
Vegan sausage, bean and 'cheeze' melt
Meat-eaters may have just got their version back, but the vegan sausage, bean and cheese melt is still Missing in Action.
Macaroni pie
If you have any Scottish friends or family you'll know the weird obsession the country has with a macaroni pie.
The patry never ventured south of the border in Greggs stores, but the creamy macaroni cheese pasty would have gone down a treat here.
Discontinued in 2015, the outrage saw a petition gain over 2,000 signatures and it was even discussed in Scottish Parliament.
I know it sounds like a strange combination, but they were glorious.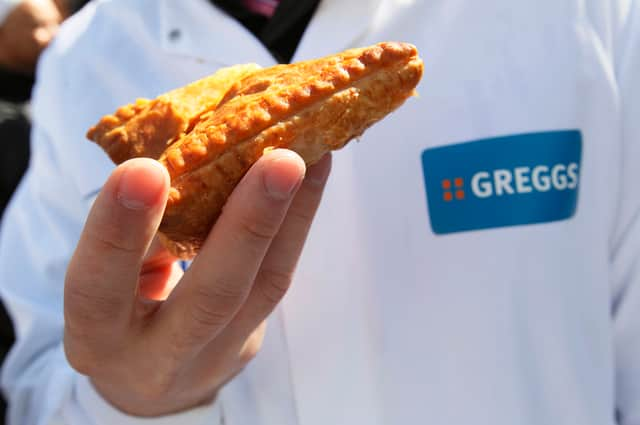 Chicken katsu bake
This bake's time in the counter seems to have been very short lived. Launched in 2016 as part of a low calorie range, the patsy was a favourite amongst some but an abomination to others.
Vegetable madras bake
Another item lost with the Balanced Choice lower calorie range.
Nacho chilli cheese bake
Another short-lived pasty was the nacho chilli cheese bake. Consisting of a sweet potato, vegetable and jalapeno filling, it was a favourite amongst meat-eaters and vegetarians alike.