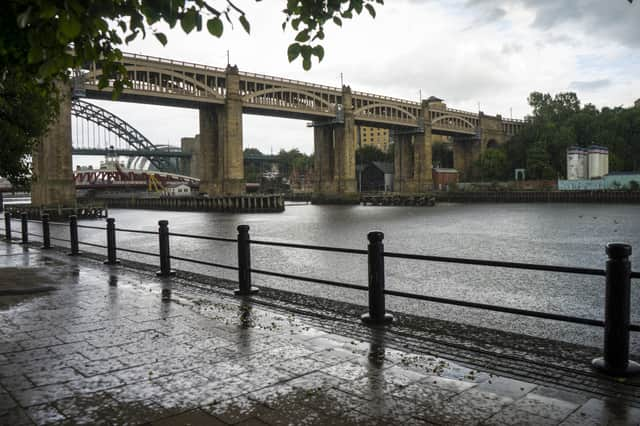 The occasional flurry of rain in Newcastle has threatened to end an uncharacteristically dry October on Tyneside this week.
However, for the most part, it has remained mild and pleasant as temperatures frequently hit the high teens.
Now halfway through the month, it shouldn't be too long until the weather takes a turn for the wetter with Winter fast approaching.
Towards the end of next week, the rains are set to arrive in full force, just in time to put a damper on any half-term plans.
That may have local families looking for a last-minute trip abroad, and there are some great deals still to be had from Newcastle Airport, as NewcastleWorld.com found here.
For now, the weather will be largely dry over the weekend with the occasional hour threatening some light rain.
Saturday, October 16
7 am - 7 degrees and cloudy with less than 5% chance of rain
10 am - 8 degrees and overcast with 10% chance of rain
1 pm - 10 degrees and overcast with 10% chance of rain
4 pm - 11 degrees and overcast with 10% chance of rain
7 pm - 11 degrees and light rain with 50% chance of rain
10 pm - 11 degrees and cloudy with 10% chance of rain
Sunday, October 17
7 am - 11 degrees and light rain with 60% chance of rain
10 am - 12 degrees and light rain with 60% chance of rain
1 pm - 14 degrees and cloudy with 10% chance of rain
4 pm - 15 degrees and cloudy with 10% chance of rain
7 pm - 13 degrees and cloudy with 10% chance of rain
10 pm - 12 degrees and cloudy with 10% chance of rain
Monday, October 18
7 am - 11 degrees and cloudy with 10% chance of rain
10 am - 12 degrees and cloudy with 10% chance of rain
1 pm - 13 degrees and cloudy with 10% chance of rain
4 pm - 14 degrees and cloudy with 10% chance of rain
7 pm - 14 degrees and overcast with 10% chance of rain
10 pm - 14 degrees and cloudy with 20% chance of rain
Tuesday, October 19
7 am - 16 degrees and cloudy with 20% chance of rain
10 am - 16 degrees and cloudy with 10% chance of rain
1 pm - 18 degrees and cloudy with 10% chance of rain
4 pm - 18 degrees and cloudy with 10% chance of rain
7 pm - 17 degrees and cloudy with 10% chance of rain
10 pm - 16 degrees and light rain with 50% chance of rain
Wednesday, October 20
7 am - 14 degrees and partly cloudy with 10% chance of rain
10 am - 14 degrees and cloudy with 10% chance of rain
1 pm - 14 degrees and light showers with 40% chance of rain
4 pm - 13 degrees and light showers with 40% chance of rain
7 pm - 11 degrees and partly cloudy with 10% chance of rain
10 pm - 10 degrees and cloudy with 10% chance of rain