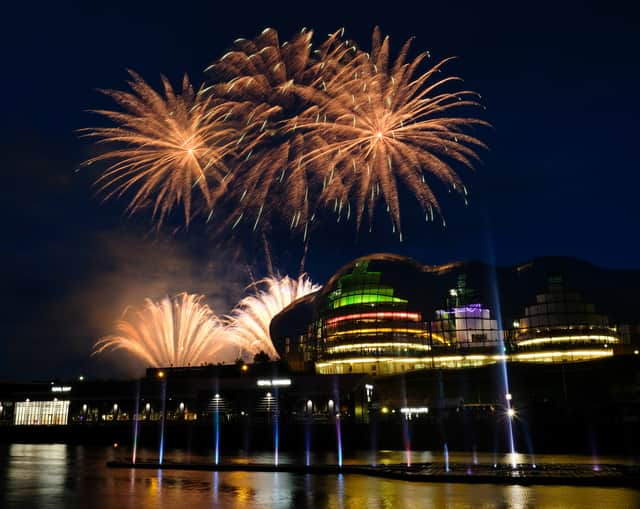 Now that Halloween has come and gone, it's all eyes on Bonfire Night and firework displays in Newcastle.
The Tyneside sky is set to light up in a multitude of colours over the weekend as the city embraces the annual celebration.
Last year's Bonfire Night was an underwhelming one with lockdowns gripping the region and, whilst there are still some events not returning in Newcastle this year, 2021 looks to largely be back to normal.
The ever-popular display at the City Stadium in Sandyford is one of the big events to bite the dust again this year.
Ouseburn Community Centre, the event organisers, are unable to hold the event for a number of reasons after consultations with the council.
The infamous Saltwell Park display is another that won't be happening in 2021, with the council saying they hope to be back in 2022.
Gosforth Fireworks Extravaganza 2021 - Saturday, November 6
Newcastle Round Table's Gosforth Fireworks Extravaganza is back after a two-year hiatus.
The event returns to the Broadway West Playing Fields in Gosforth with fun for all the family.
The firework show promises over 120 effects per minute and will be preceded by food and drink stalls, as well as other attractions.
What's more, all profits from the event will go to local charities.
Tickets must be bought in advance and aren't available at the door. Get them here.
Fireworks & Fun Fair Racenight - Friday, November 5
One of the biggest events this year is set to take place at Newcastle Racecourse.
The racecourse is holding racing on Friday, November 5 which starts at 3 pm and ends at 6 pm.
After the racing will be the fireworks display provided by Spectrum Fireworks.
There will also be a fun fair, face painting and glitter stand and much more.
Tickets include entry to the horse races, so this could be a good option if you're hoping to make an afternoon of it. Get them here.
Rutherford Rugby Club - Friday, November 5
If you are gutted to be missing out on the Saltwell Park display, Rutherford Rugby Club is not far away and has an alternate event.
There's a choreographed fireworks display, fire dancers, bongo drums and other performers.
Tickets can be purchased in advance on EventBrite. Get them here.
Seaham Fireworks - Friday, November 5
With this year's cancellations, you might have to travel a bit further out for a full display.
The Seaham Fireworks display is nearer Durham than Newcastle but is at least going ahead this year and is free.
It's a great location too, taking place by the sea, and has all the usual stalls and attractions before the big event.
Chester-le-Street Fireworks - Saturday, November 6
The Chester-le-Street event looks to be one of the blockbuster ones in the region this year.
It's the event's 32nd year and organisers are promising it will be the best yet.
Tickets are on sale in advance and can be picked up here.
Newbiggin Fireworks - Saturday, November 6
North of Newcastle is the Newbiggin Fireworks on Saturday.
The event is overseen by Newbiggin Boxing Club and is free, although donations will be taken on the day.
Shows and food start from 2 pm with a bonfire and fireworks from 6 pm.
Stanley Fireworks - Saturday, November 6
Stanley Fireworks is back again in 2021 and will be free to the public, although organisers ask for donations that will be put to good causes.
There will be live music from 5:50 pm with Jessie Dale, Jamie Lee Harrison and Channy on the bill.
The fireworks will then kickstart at 7 pm.