'Absolute last resort': Desperate teachers flood through Newcastle during biggest UK strike in decade
Teachers took to the streets of Newcastle to demand fairer pay rises and better workloads today.
Watch more of our videos on Shots!
and live on Freeview channel 276
Visit Shots! now
Over a thousand teachers from the North East filled the streets of Newcastle today as part of the UK's biggest strike in a decade.
Wednesday marked the first of seven days' worth of industrial action led by the National Education Union as teachers demand better pay and a fairer workload.
The crowd held up signs that read "a wet paper towel isn't going to fix this", "school funding in crisis" and "I'm using my teacher voice". There were also children, many of whom were affected by 51.7% of state-funded schools being at least partially closed, who held signs with slogans of "government are a poo".
Up to 500,000 people are thought to be taking part in the strikes today in what is the biggest industrial action in 10 years. During Prime Minister's Questions today, Rishi Sunak said that teachers had been given "the highest pay rise in 30 years" and that "children deserve to be in school".
'Too many teachers leave the profession within five years'
Speaking at the picket line, Beth Farhat, Regional Secretary for the National Education Union said: "Educators need a fully-funded above-inflation pay rise, but it's not just about pay. Too many teachers leave the profession within the first five years and it makes it really difficult to recruit. There's a toxic mix of low pay and increased workload.
"There's a lot of pressure on schools and we are seeing math teachers covering chemistry classes, teaching GCSE children out of a textbook as opposed to qualified teachers. The government is struggling to recruit its target teachers.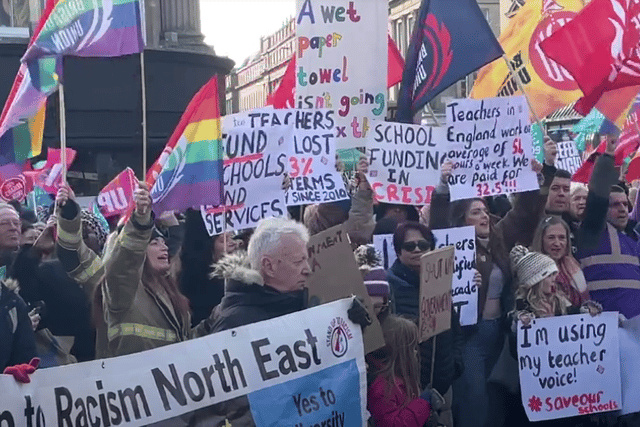 "Unity is strength. I think what's happened today is 500 workers are uniting together to take action, to break the public sector deadlock on pay. This country is in a social crisis. We can only do this together and the government needs to listen."
Mr Kebede: 'A lot of teachers on this strike are parents - it's an absolute late resort'
One striking teacher in Newcastle is Daniel Kebede, who said that taking such action was a last resort. Mr Kebede has children himself and said he was aware of the impact the industrial action would have on families.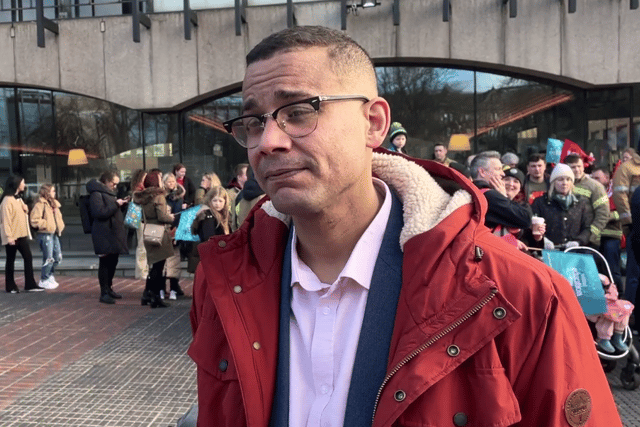 He said: "My school is like every other in the country. There's been declining pay over the past decade, 24% loss in real terms. We're seeing per-pupil funding continually eroded and that's now below 2010 levels.
"We don't have the basic resources we need, and there are high workloads. That's exactly what everyone is experiencing, it's not unique to any school, it exists everywhere.
"It's a deep expression of anger. Of course, we are angry at low pay and funding erosion, but we're also angry at high workloads across the profession, a ruthless inspectorate in Ofsted and seeing rocketing levels of child poverty in our region grow year on year.
"A lot of teachers on this strike are parents. Disruption is the last thing any teacher wants to do, it's an absolute last resort for our profession. It's in the government's court. They need to get around the table with the trade union, put forward a decent settlement and this strike will be ended. They've not done that so far, they've got weeks until the next days of strike, it's time for the government to act."