Adoptober: Two pigs rehomed from flat in Gateshead
The two brothers now have plenty of outdoor space!
Watch more of our videos on Shots!
and live on Freeview channel 276
Visit Shots! now
Two male pigs, of the Kunekune breed, were rehomed from a flat in Gateshead to an farmland home in County Durham. Their previous owners bought the two pigs, under the impression that they were miniatures, but as they grew in size, their owners found them difficult to look after. When the owners moved into a flat, they contacted the RSPCA for help.
After being taken into the care of the RSPCA, the animal charity launched a search to find the perfect home for the two friendly pigs - one that would suit the needs and demands of their breed.They found Clare Dewhurst, who was happy to take the pair of them on as her own. Clare had never owned a pig before, but had a lot of experience looking after sheep and livestock from her County Durham home. The pigs have been re-named Smokey and Haggis, and are now enjoying life in the outdoor areas of Clare's home, with their own large paddock and pig ark. The pair who are between one and two years old are believed to be brothers, therefore the RSPCA were adamant to rehome them together.
This month, the RSPCA launched their annual campaign Adoptober. The campaign encourages prospective pet owners to adopt an animal that is in need of a home rather than buy. Smokey and Haggis's story shows though, that it is not just cats and dogs that need to find their forever home, but other animals too. Figures show that rehoming has dropped 8% while the amount of animals taken into care is on the rise of 8.4%.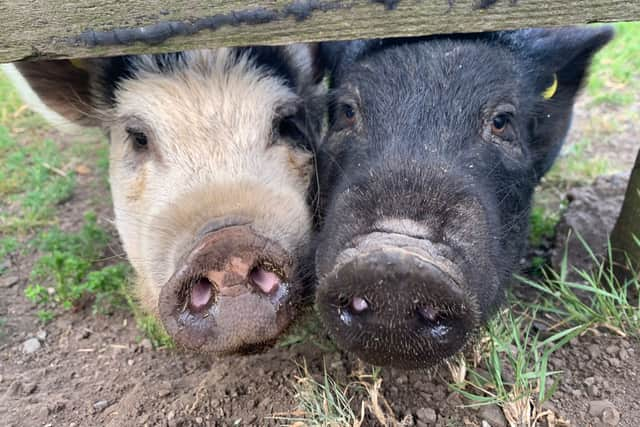 RSPCA Chief Inspector Lindsey Avery said: "When Smokey and Haggis' owners were rehoused to a flat there wasn't enough room for them and they were being kept in the kitchen which was obviously not suitable. Their owners did the right thing by willingly signing them into our care. We had quite a bit of interest in taking the pair on as they are so friendly and clever - but they have very specific needs and Clare was the first to meet the criteria of what we were looking for in an owner."
Kunekune pigs are the smallest domesticated breed of pig, however they can grow fairly large in size. They are incredibly friendly and interact well with humans, however they do need plenty of outdoor space for their natural behaviours, such as rooting and foraging. You must hold a licence to keep them as pets.
Lindsey continued: "Clare has a lovely paddock with a big tree for shelter. She's got an agricultural background and knows what they need. There is a pig ark so they have outside shelter, as well as somewhere to sleep at night in a side stable. It has been a great outcome for this rehoming as we know it is a big commitment to keep pigs like these. They can live a long time and people sometimes don't take into account that they are not going to stay small forever.
If you could offer a rescue pet a new forever home, please visit the RSPCA's Find a Pet section of their website.