A local police officer who left "an amazing and far-reaching legacy" has been recognised with a posthumous award.
Motor Patrols Sergeant Jane Munro died from cancer last August and left colleagues "devastated".
Sergeant Munro received a standing ovation as the Pride in Policing Award was announced.
The officer received the accolade as thanks for her contributions to road safety.
Jane first joined Northumbria Police in 1992 and worked in various operational roles across the Force before she achieved her dream of becoming a Motor Patrols officer.
When she was diagnosed with breast cancer in 2019, Jane refused to let that slow her down.
And after receiving treatment, she was back with the team determined to continue her exceptional work.
During the Covid pandemic, Jane took on the role of Road Safety Sergeant, which provided an opportunity for her to extend the benefit of her experience across the Northumbria police area.
Sadly, the cancer returned, and she tragically passed away a day after her 50th birthday.
Jane's legacy was recognised with the presentation of the Roy Toogood Memorial Award for road safety, leading to a standing ovation when her name was announced at the ceremony.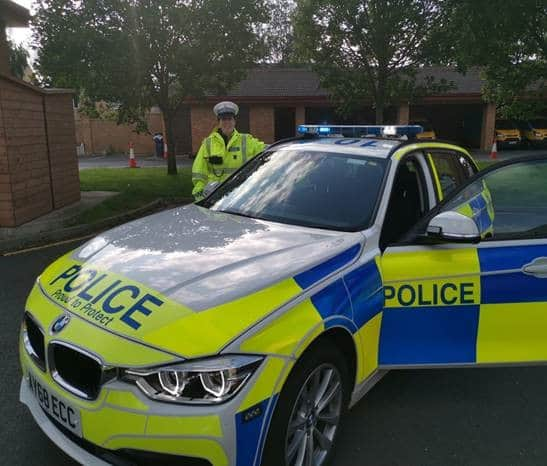 Chief Constable Keenen QPM said: "Jane's drive and enthusiasm were evident in all that she did. She was truly passionate about policing, and so very proud to be a police officer.
"Over the years, Jane was a role model to many – she was a determined, kind and fearless person, who always had a welcoming smile for everyone.
"Her enthusiasm, strength and commitment were always apparent, and it is a privilege to honour her memory with this award.
"There can be no doubt, thanks to her passion and dedication, Jane has left an amazing and far-reaching legacy."
Jane was nominated for the award by Superintendent Sam Rennison who spoke of her selfless approach and passion for keeping our roads safe.
She said: "Jane battled adversity and was incredibly resilient and determined – she was an inspiration to me and her fellow colleagues.
"She worked hard and selflessly, supporting colleagues, partners and the public to make the roads a safer place for everyone.
"Those of us who were privileged to have worked with Jane over her career had the pleasure to be around her infectious energy and enthusiasm. We all lost a friend."
Jane's husband added: "Jane lived for the job, both on and off duty, she was passionate about any role she undertook and gave it her all.
"She was always willing to help people again both while at work and in her own time."