Beachgoers in Northumberland told to stay out of the water as sewage pumped into seas and rivers
Everything you need to know about storm overflows after beachgoers warned of pollution risk.
Watch more of our videos on Shots!
and live on Freeview channel 276
Visit Shots! now
Beachgoers in Newcastle have been advised to stay out of the sea at Northumberland beaches  following pollution risk warnings that sewage has been pumped into the waterways.
Many parts of the UK have been issued with weather warnings by the Met Office due to persistent heavy rain and thunderstorms this week.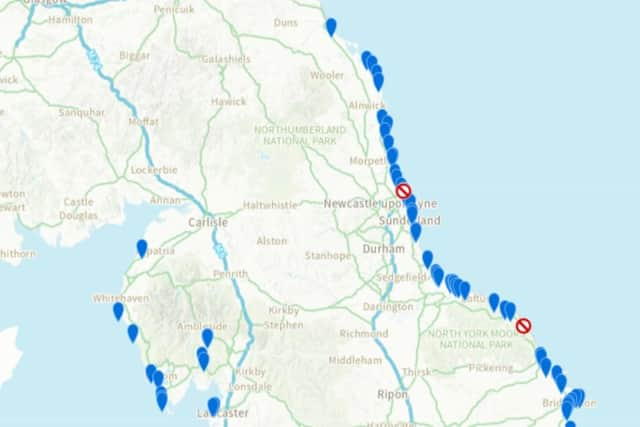 The agency said heavy rainfall along with high winds at tides can all affect sea water quality that results in pollution risk warning and advice against bathing.
Meanwhile, according to the Telegraph, an SAS spokesperson said  that other pollution warnings in place may not be linked to heavy rain, and those visiting the coast are advised to check its interactive map before they go for a swim.
Here is everything you need to know about the warnings that are affecting beaches across the UK.
What is a storm overflow and is it harmful?
Sewers are designed to overflow into the ocean and rivers when treatment plants are overwhelmed by heavy rainfall. If the sewage is not released, it may overflow into the streets or cause toilets to back up.
The bulk of Britain's sewer networks transport both rainwater and sewage, a process known as storm overflows.
According to The Water Services Regulation Authority (Ofwat), storm overflows are designed to function as relief valves when the sewerage system is at risk of being overwhelmed, such as during heavy downpours when a large volume of rainwater quickly floods into drains and the sewerage system.
In the worst-case situation, if the system becomes overwhelmed, it might cause flooding or even back up into people's homes, which would have disastrous consequences for customers.
In order to prevent this, water corporations will occasionally use storm overflows to send excess rainwater and sewage into rivers and oceans. In specific cases, the Environment Agency and Natural Resources Wales can provide permissions for the use of storm overflows.
In emergency scenarios, storm overflows can also cause spills, such as when there are sewer obstructions or equipment failures at wastewater treatment facilities.
And according to Wessex Water, storm overflows "have minimal or no ecological impact because what is released is diluted wastewater."
What is the Met Office weather forecast for Newcastle this week?
After two days of thunderstorms, the North East region will likely see a few sunny spells beginning Wednesday, August 17. Below is the full weather forecast.
Today
Today will start out partly cloudy, but the clouds will soon clear and there will be a few sunny spells, with the North feeling the warmest. A little bit cooler near the coast. Light winds most of the time. Maximum temperature 17 °C.
Tonight, it will be dry with some late sun and a few spots of cloud, mostly over the hills. Overnight, it will get more cloudy, and there may be some rain in the Pennines by morning. Minimum temperature 7°C.
Thursday, August 18
Most of Thursday will start out dry and partly cloudy. As the afternoon goes on, it will get cloudier and rain will start to come from the west. Maximum temperature 21 °C.
Friday, August 19 to Sunday, August 21
From Friday to Sunday, there will be some sun and a few showers. Saturday will start out windy and cloudy with rain or showers, but it will get drier and brighter later. Sunday will start out dry, but it could rain later. Temperatures near normal.