You will certainly remember Blue if you grew up in the early noughties. Although they didn't make as much of a cultural impact as other boy bands such as Westlife, One Direction and many other boy bands before and after their time, they certainly provided us with some timeless bops.
Last night (December 20), I attended their show at the Utilita Arena. I was half shocked to see that they only had half of the arena (my first time I have attended a show at the arena with seats blocked off). However, I guess it made sense given my previous statement in the above paragraph.
Due to this though, I wasn't sure whether it was going to be a good show. Of course I like Blue - and their 2001 track All Rise still makes it to my Spotify Top Songs each year, but what it was that actually convinced me to buy a ticket for the show was the support acts.
First of all we had an act named Cassa Jackson. I didn't actually know of her prior to the show, but she performed a good set of what I would describe as feminist-pop. Then we had Megan McKenna. I'm such a huge fan of her music, and became even more obsessed after she won The X Factor: Celebrity in 2018. Megan originally came from reality TV, but has an absolutely beautiful voice, and she writes her own country songs. She was absolutely fantastic at the show.
The third and final support act, was Irish girl band B*Witched. You'd be lying if you said you don't absolutely love their 1998 number one, C'est La Vie. They performed a few more of their older tracks dressed in double denim, and were just as brilliant as they were in their prime.
Prior to Blue coming out on stage, we were introduced to a man named Okiem who is an award-winning pianist and composer. He accompanied the band for their slower tracks, and started off the show with the incredibly recognisable notes of Sorry Seems To Be The Hardest Word (Elton John re released the track with Blue in 2002).
The lads of Blue arrived on stage and belted out the track - their voices still sounding amazing, although Lee Ryan wasn't quite able to fully reach the high notes quite like he used to - he gave it a good go.
They then performed their newer tracks from their 2022 album Heart & Soul. I usually hate it when I see a band I loved back in the day and they play new music - but I actually really enjoyed Blue's new stuff. I will for sure give their new album a proper listen.
Then, they performed a Motown medley, wearing matching red blazers. It was certainly quite a random and unexpected moment, but it worked!
They sang a mix of old and new tracks throughout the show and even brought Megan McKenna back on stage to sing the female vocal in their 2001 number one hit Too Close. In fact, all the support acts came back on stage for their 2002 hit Fly By II, just to have a dance and what seemed to be a great laugh.
For the final song, they performed their debut single All Rise, and everyone in the arena rose to their feet to dance and sing along (no pun intended). They came back on stage of course, for their encore performance, which was of course one of their most popular songs - One Love. However, it was a more stripped back, emotional version, that really worked for the current hardships we face in 2022.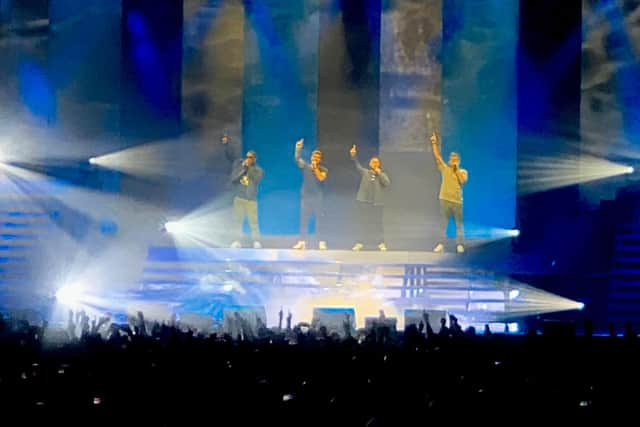 Newcastle's Utilita Arena was the final performance of Blue's Heart & Soul tour, and you could tell that because of this, all the performers really put their all into it while also having a good time - meaning that us as the audience really picked up on that energy. It was a fantastic show.