A ten-week BMX programme aimed at guiding young people away from criminality has been hailed an overwhelming success.
The diversionary project was designed to inspire North Tyneside youth after an anti-social behaviour spike in the area.
Funded by Police and Crime Commissioner Kim McGuiness' Violence Reduction Unit, the BMX sessions sought to positively influence those who may be prone to risky behaviours.
Neighbourhood Inspector Jennifer Scott said: "This dedicated action is just one way we have been addressing the concerns reported to police and partners by residents.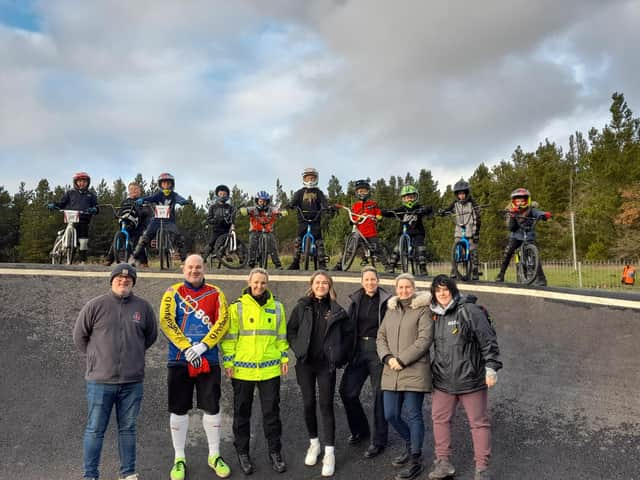 "I was really pleased to see such excellent engagement taking place with young people in the area, and the feedback we have received has been overwhelmingly positive."
The Violence Reduction Unit has overseen more than £20,000 invested into the community, with a number of targeted projects launched with the support of local partnerships such as Edge North East, North Tyneside Council and Power Through Sport.
Scott continuted: "This activity of course is not just a one-off and we would like to reassure those living and working in the area that patrols and partnership working will continue. In the coming weeks we have several initiatives in the area to be launched, and this work continues all year round.
"However, we would also ask members of the public to continue to be our eyes and ears on the ground and report any intelligence to police or the most appropriate agency.
"I would encourage parents and carers to continue to engage and work with us about anti-social behaviour. Please speak to your children about where they are heading, what they are doing and the potential consequences of getting mixed up in this type of activity.
"Ultimately, we need your support to tackle anti-social behaviour in North Tyneside and to help ensure that young people in the community are safe."
Sessions were hosted at Barnesbury BMX Club in Bedlington who purchased new equipment to provide access to free, up-to-date gear- removing any participation barriers.
Kim McGuiness, Northumbria Police and Crime Commissioner, said: "This work builds on the success we have seen during the summer months and provides young people with access to activities and projects that interest them, right in the heart of their local communities.
"We must continue to do all we can to steer young people away from the dangers and consequences of becoming involved in crime. That's why the Violence Reduction Unit is committed to ramping up its seasonal activity to ensure projects like this are available in areas that need them most.
"I can't stress enough how important it is that we provide our region's young people with as many opportunities as possible, because with the right support, we can help them to make positive decisions for the future."