Chinese New Year 2023 began yesterday (Sunday January 22), celebrating the Year of the Rabbit.
Newcastle has a Chinese community of over 35,000 people and has its own ChinaTown located in Newcastle's City Centre on Stowell Street.
Unfortunately, due to the pandemic, the parade has not been able to go ahead for the past few years. This meant that this year's Chinese New Year in Newcastle was going to be an extra special celebration, with promises of being "bigger and better" than previous years
I headed to Newcastle's ChinaTown with a few friends to celebrate Chinese New Year, and to experience the much-loved parade and performance by Choi Lee Fut Edmund Ng Dragon and Lion Association.
We arrived in Stowell Street, to be met with many people lining the streets, eagerly anticipating the parade.
As the parade made its way down the street, we could spot glimpses of bright, colourful costumes through the large crowds. When we could finally see the parade in all of its glory, we were in awe of all of the performances by the incredibly talented people who took part, as well as the beautiful costumes.
After the parade, we headed to one of the chinese restaurants on Stowell Street, The Red Fire. We were greeted by the wonderful team, and handed our menus.
I chose my favourite dishes, a hot and sour soup and a quarter duck with pancakes. My friends chose chow mein, special rice and ribs. One of my friends who is vegan, was able to find a dish that suited her dietary requirements. To drink, we shared a jasmine tea.
The food was delicious, and the service from the staff was impeccable. We were also lucky enough to witness one of the brilliant lion lion performers head into the restaurant in their giant costume, to eat a lettuce that was hung from the door frame.
The lettuce was then thrown back at the business owners and restaurant guests, which is a tradition that takes place on Chinese New Year, to symbolise luck for the year.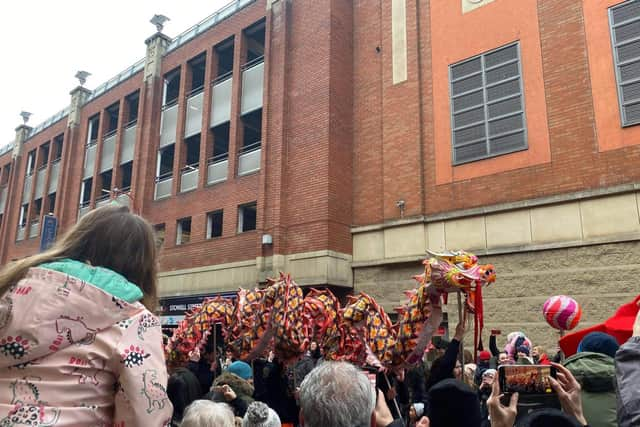 The celebrations were incredible to witness, and we felt honoured to not only experience but to be welcomed by the Chinese community in enjoying their celebrations.