A cocaine dealer who police arrested moments after he bought an air rifle has been jailed for more than six years.
Owen Douglas was part of a North East based Organised Criminal Group who were monitored as they conspired to supply high purity cocaine during the first lockdown of the Covid-19 pandemic.
Newcastle Crown Court heard how Douglas was the right-hand man of ringleaders Liam Pow and Scott Ridley, who were jailed in December last year.
During the course of the investigation into their illicit antics, police uncovered encrypted messages sent between the group and in July 2020, a series of targeted raids across Cramlington, West Denton, Walker and further afield in Newton Aycliffe, were carried out.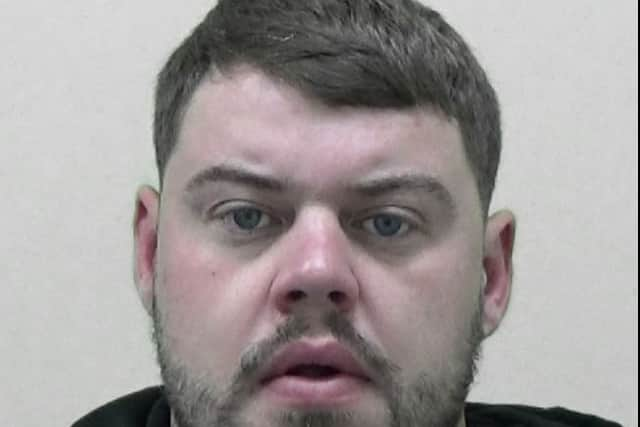 Three kilos of high purity cocaine with a street value of £135,000 as well as £260,000 of suspected criminal cash were seized from one address in Walker – and forensics would later find Douglas' fingerprints on the cash.
He was arrested later that day on Grey Street in Newcastle, in the company of Pow, having just bought an air rifle.
His home in West Denton was later searched and officers recovered several Rolexes and diamond rings worth an estimated £93,400 as well as quantities of cash.
Douglas, 30, of Fairspring in West Denton, was later charged with conspiracy to supply and previously pleaded guilty. On Thursday (March 23) he was sentenced to six years and seven months imprisonment, and also disqualified and banned from driving for 12 months following his release.
Together the group have been sentenced to a combined total of more than 65 years behind bars.
Speaking after the sentencing, Detective Chief Inspector Marc Michael, from the Force's Crime department said: "Douglas is now the eleventh person to be jailed for their role in this conspiracy and jail time is now in excess of 65 years.
"These results are a testament to the hard work and dedication from officers and staff not only in Northumbria Police but our partners in the criminal justice system who have had enough of these brazen groups selling harmful, addictive substances in our communities.
"Douglas used his criminal cash to buy diamonds and gold rings, Rolexes and weapons – and was part of a group who operated in the shadows, using encrypted messages to hide their offending.
"This group knew they were breaking the law during an incredibly difficult time across the country. Douglas bought luxury items and lived like he was doing nothing wrong, when in reality he was profiting from an illicit business which exploited the vulnerable, funds further violent crime, and has no place here.
"Two further men are due to be sentenced later this year in connection with this conspiracy and we make no apologies for our continued disruption of organised crime, as part of Operation Sentinel."
If you would like to report any suspicious behaviour, please visit the Northumbria Police website and use the 'Tell Us Something' page.
Note for editors – those previously convicted are as follows:
Liam Pow, 34, of Wreay Walk in Cramington, was jailed for 14 years and four months.
Scott Ridley, 32, of Walkerfield Court in Newcastle, was jailed for nine years and four months.
Tiffany Day, 30, also of Walkerfield Court denied her involvement but was found guilty following a trial, and jailed for three years.
Christopher Phillips, 30, of Clapham Avenue, Newcastle was jailed for four years and six months.
Alexander Peter James Bales, 25, of Ida Place Newton Aycliffe, was jailed for four years and nine months.
Jace Michael Farrell, 26, of Phoenix Place in Newton Aycliffe, was jailed for four years and nine months.
David Storey, 29, of Welbeck Road, Walker was jailed for five years and one month.
Nathan Houghton of Wakenshaw Drive, Newton Aycliffe was jailed for 4 years and one month.
Christopher Windmill, 47, Auberndale Avenue, Coventry was jailed for 10 years and six months.
Courier Ronald Smith, of Laburnum Gardens in Durham, was jailed for three years and four months.