Five year old crushed under wheels of truck he had climbed on
The owner of the truck did not give evidence during the trial.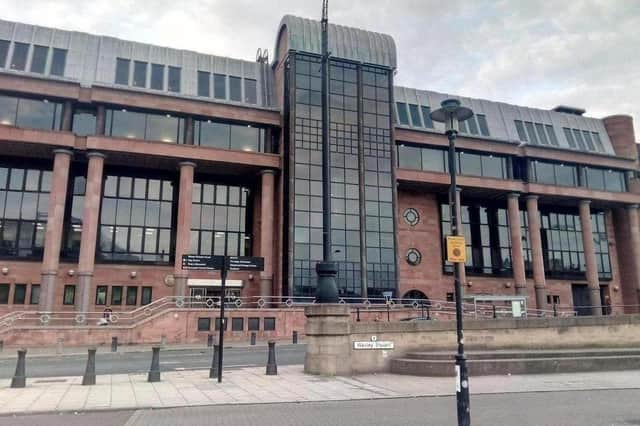 A driver is facing jail after a five-year-old boy was crushed under the wheels of a trailer he had climbed on while it was parked outside a local shop where he had gone to buy sweets.
Groundworker Darren Jacques had parked his flatbed truck, which was pulling a trailer carrying a digger, outside a grocery shop he popped into in Fenham, Newcastle, on August 24 2020.
Newcastle Crown Court heard schoolboy Layton Darwood had been at the same store, with some other children, to buy treats during the school summer holidays and he climbed onto the vehicle as they left.
Prosecutor Matthew Donkin told the court as Jacques started to pull away, Layton fell beneath the trailer and suffered unsurvivable torso injuries.
Layton died later that day.
Mr Donkin told the court: "It is not disputed between the prosecution and defence, while the defendant's vehicle was stationary and before he drove it away, Layton climbed onto the trailer, or the coupling between the trailer and truck.
"He was therefore on the vehicle as the defendant began to drive it away.
"He fell to the ground and under the wheels of the trailer, heavy with the digger, which rolled over him causing fatal injuries."
Jacques, 41, of Hutton Hill, Penrith, Cumbria, denied causing death by driving while disqualified but has now been found guilty by a jury after a trial.
Judge Robert Adams adjourned sentence but warned: "I'm giving no indication there will be anything other than an immediate custodial sentence."
The judge said Jacques could have bail until the next hearing but told him: "You must expect an immediate custodial term. Do not leave here expecting anything other than that.
"You are already disqualified, make sure you don't drive between now and then."
Mr Donkin had told the court there was no dispute that Jacques was a banned driver at the time and that Layton's death was caused by what happened that day.
But Mr Donkin added: "The law requires there must be some feature of his driving that can be criticised and which caused Layton's death, something thedefendant did or did not do by way of his driving which contributed, in more than a minor way, to Layton's death."
Mr Donkin said if no aspect of Jacques driving, other than the fact he was disqualified, could be criticised then he must be cleared of the charge.
The court heard the shop on Willow Avenue is in an "obviously" residential area, with a 20mph speed limit, houses and fields and it was the summer school holidays, so there was children playing in the area.
Mr Donkin said Layton's group "cannot have been missed" by Jacques as they were outside the shop and he "jogged around them" when he left and got back into his truck.
Jacques did not give evidence during the trial.
Read Newcastle's news on the go with our free email newsletters - bringing the headlines to your inbox. Catch up on the day's news and sport and enjoy even more from the NewcastleWorld team. Visit our website here to find out more and sign up.
Jurors heard the children had gone to buy sweets from the shop that day.
One of the group said when they got outside Layton ran to the truck and started climbing on the trailer and his feet or laces appeared to become stuck, he then fell and was dragged under the wheels, despite attempts to grab him to safety.
The court heard Jacques, who initially gave a false name at the scene, later said the boy may have been in a "blind spot" when he pulled away, without realising a child had climbed onto the vehicle.
Mr Donkin said Jacques' case was he took all appropriate precautions before he pulled away.
But Mr Donkin added: "He failed to take proper precautions before pulling away. He knew he was in a residential area, he knew there were children around.
"He should have checked it was safe to pull away. It can't be that he checked properly. He failed to carry out appropriate checks."
Mr Donkin said the way Jacques van was parked, partially on the pavement, was also unsafe and it was his responsibility to ensure the area was clear before he pulled away.