Police seize more than £50,000 worth of harmful vapes as part of local crackdown
They recovered more than 3,000 suspected illegal vapes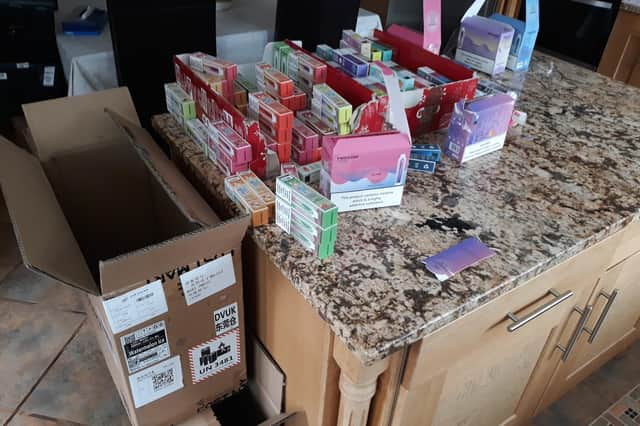 Officers from Northumbria Police and North Tyneside Council's Trading Standards Team have seized more than £50,000 worth of harmful vapes in a crackdown on the supply of illegal counterfeit goods.
On Thursday, August 3, officers from one of the Force's Neighbourhood Policing Teams in North Tyneside executed a warrant on two addresses on Burdon Street, Percy Main.
Together, they recovered more than 3,000 suspected illegal vapes worth tens of thousands of pounds.
Searches of the addresses also recovered almost £32,000 in cash which was seized under the Proceeds of Crime Act.
Investigations remain ongoing at this time.
Following the seizures, Northumbria Police is warning of the dangers of buying counterfeit goods.
Sergeant James Younas, of Northumbria Police, said: "Counterfeit vapes pose a real danger to people as they are not produced by licensed companies and contain unknown quantities of chemicals, making them even more harmful than those which are regulated.
"People might think, just because they may be cheaper, that it's alright to buy them and take that risk. But what they don't see is that the money used from the sale of these items may be used to fund organised crime and further illicit activity.
"As a Force, we are committed to tackling serious and organised crime and will continue to pursue those involved in illegal activities, as well as protecting the public from the potential harmful effects of this type of criminality."
He added: "It's always the first priority of ourselves and our partners at the Council to take these items off the streets so they can't pose a further danger to anyone, so I am really pleased with the outcome of these warrants.
"My advice is simple: please don't take the risk – always use a reputable seller and an official source, as you never know the effects these products could be having on your long-term health."
Councillor Karen Clark, Cabinet Member for Public Health and Wellbeing, said:" Through a joint operation against illegal activities, we have successfully removed thousands of non-compliant e-cigarettes and a substantial sum of money from circulation in North Tyneside.
"This collective effort underscores our dedication to ensuring public safety and reducing the risks posed by the sale of counterfeit goods. It's another example of the council and Police working in harmony to address these issues, and we will continue to work together to keep our communities safe and free from harmful products."