Two men approached a member of staff outside the building society and threatened the man, telling him to "drop it, drop it", as they pointed what appeared to be a handgun at him.
The employee handed over a box to the pair and they made off with a large amount of bank notes.
The man was not injured during the incident but he feared that he would be shot if he did not comply with the pair's demands.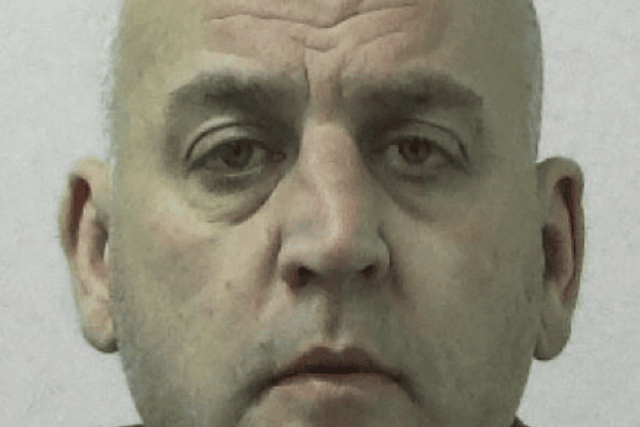 Northumbria Police's High Impact Team launched an investigation and just days later, Stephen Bayley, 39, and Lee Cook, 47, were arrested, and within 48 hours, they were charged.
Officers were led to the pair after extensive CCTV checks allowed them to identify a Mercedes van as the get-away vehicle and allowed officers to name them as their prime suspects.
Cook was also charged with a second robbery, which occurred at the same bank in November 2020, as an investigation led officers to notice similarities between the two cases.
The police investigation also confirmed that it had been an imitation firearm that had been used in the robbery.
In July 2022, Bayley appeard at Newcastle Crown Court where a jury found him guilty - Cook admitted to the offences that he was charged with before a trial.
On Wednesday, April 26, both men were back in the same court where they were sentenced to a total of almost 28 years in prison.
Cook, of Wiltshire Gardens in Wallsend, was sentenced to 15 years for two counts of robbery and one court of possession of an imitation firearm.
Bayley, of Morpeth Terrace in North Shields, was sentenced to 12 years and nine months for one count of robbery and one count of possession of an imitation firearm.
He was also sentenced for breaching a restraining order.
Following the sentencing, Detective Sergeant Barry Smith, of Northumbria Police, commented: "This was a serious incident that would have been terrifying for the victim and I hope this sentence brings them, and the wider community, some reassurance.
"I also hope this acts as a warning to those who believe it is acceptable to take what is not theirs and terrorise their neighbourhoods – we will do everything in our power to see that you are brought to justice.
"This excellent sentence has come about because of hours of hard work, tireless persistence and what is ultimately a superb piece of policing.
"The investigative team trawled through huge amounts of CCTV to try to trace the suspects and invested a lot of time and effort into the search for those involved.
"Not only were they able to identify the perpetrators of one robbery, but the meticulous review of evidence helped secure the resolution to a second crime – which is reflected in Cook's lengthy sentence.
"This is an extremely rewarding outcome in return for a comprehensive investigation and I know such hefty punishments as given out in this case undoubtedly make thieves think twice."