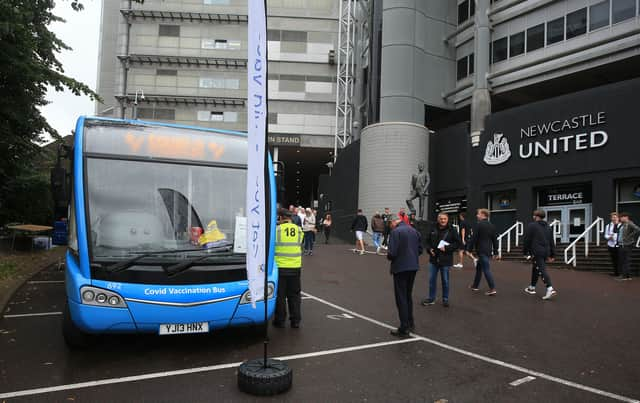 Newcastle is one of the areas in the UK where the population has shown the most reluctance to get vaccinated.
The latest data shows that 79.6% of people in Newcastle had received their first dose of a Covid-19 vaccine as of October 25.
From an estimated population of 266,289, it has been found that 212,043 have had a least one vaccination with 54,246 people currently unvaccinated.
That number of unvaccinated Geordies is equivalent to the capacity of St. James' Park, plus an additional 2,000.
It means that out of all 339 council areas in the data, Newcastle is the 30th slowest for vaccine uptake, despite the North East being one of the country's regions most affected by the pandemic over the past 18 months.
The worst area is Westminster, where just 67.1% of the population have had the first jab.
The area with the highest percentage of vaccinated people in Cambridge, with 99.1% of its population jabbed.
Newcastle lags behind neighbouring Gateshead, where 84.3% of residents have had at least one jab.
That figure is 88.7% in North Tyneside and 84.4% in South Tyneside.
Health Secretary Sajid Javid has reassured the UK that Christmas should be "normal" this year, despite a worrying rise in Covid cases.
Mr Javid said that whilst the situation was hard to predict this far in advance, he did not expect to have to impose any lockdown this time around.
Asked on LBC radio if he thought Christmas was "safe", Mr Javid said: "I think it is as long as we do what we all need to do – everyone's got a role to play in this.
"We all want a fantastic Christmas and we can ensure that by getting out there and getting our vaccines.
"There are still some five million people out there that haven't had a single dose of the vaccine and we need to basically tell them they need to do that, not just to protect themselves but to protect their loved ones, to do their bit, but also there's other sensible behaviours that we can all have over the next few months.
"It's getting darker, we can see it's getting colder, we will spend more time indoors, and so we should think about hand hygiene, about getting tested regularly, especially if you're going to meet your more vulnerable… perhaps an elderly relative or someone.. so if we can do all that, I'm sure that we're going to have a great Christmas."