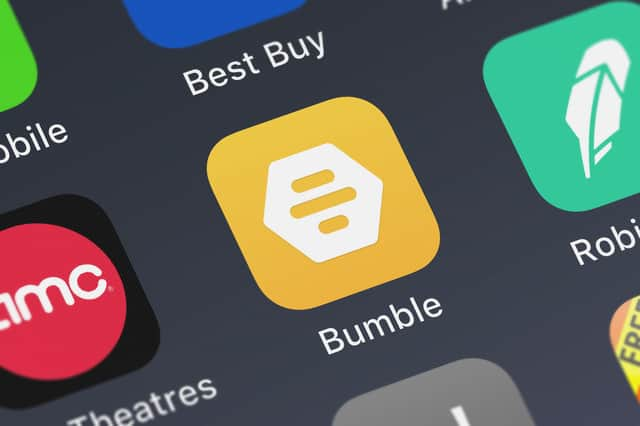 Dating app Bumble has called on the UK Government to make cyberflashing a crime in England and Wales.
Although it can have a great impact on people, cyber flashing is not a crime in these countries, but it is criminalised in Scotland.
According to the Cambridge Dictionary, cyber flashing is 'the act of someone using the internet to send an image of their naked body, especially the genitals (sexual organs), to someone that they do not know and who has not asked them to do this'
Now Bumble are working alongside politicians, organisations, and members of the public to call on the U.K. Government to enact a law that makes the unsolicited sending of nude images illegal.
The company has also called on social media users to share experiences of cyberflashing on the Bumble UK Instagram page using their dedicated hashtag #DigitalFlashingIsFlashing.
A spokesperson for Bumble said: "Cyberflashing is a pervasive problem, experienced disproportionately by women.
"Research from data analytics firm YouGov shows that four in 10 millennial women (41%) have been sent an unsolicited photo of a man's genitals (dick pics, colloquially) without consent.
"Bumble's own research suggests this figure could be even higher, with nearly half (48%) of those aged 18 to 24 receiving a sexual photo they didn't ask for in the last year alone.
"These explicit images are regularly sent on social media and messaging apps, as well as via AirDrop, WiFi, and Bluetooth, and women are disproportionately the recipients.
"The distress caused often leaves a lasting impact, changing how women perceive safety and interact with the internet as a whole.
"Surprisingly, cyberflashing is not criminalised in the same way that physical flashing is.
"In many countries, physical flashing is classified as a criminal offence punishable by fines and, in some cases, imprisonment.
"In Scotland, cyberflashing has been classified as a sexual offence for over a decade."
The spokesperson continued: "Now, following the success of similar legislative efforts in the U.S., Bumble is calling for the criminalisation of cyberflashing in England and Wales.
"We'll be working alongside If flashing wouldn't fly on the street—or at the office, or in the classroom—it shouldn't be tolerated in your inbox.
"Starting on 2 November 2, Bumble will have cross-party Parliamentary consultations alongside UN Women U.K., the United Nations' gender equality arm, to galvanise support from Members of Parliament in the U.K.
"We'll be engaging with organisations that have been advocating for years to make cyberflashing a criminal offence.
"We are calling on you for your support to end this form of harassment—and bring standards of conduct on the internet closer in line with our standards of behaviour in the real world."