A donation of £10,000 has been made to Newcastle children's charity, Tiny Lives Trust in order to help parents visiting their poorly babies in hospital.
The operator of the Tyne Tunnels, TT2 have made the donation to pay for the transport of approximately 350 families who are currently facing difficult times.
The transport cost will hugely help those who visit their babies in hospital and rely on public transport to get there. It will cover the cost over a full year.
Tiny Lives Trust's transport scheme helps parents to spend the time with their sick children by removing the financial burden and implications of transport.
The generous donation from TT2 will also help those families who use their cars as transport, purchasing hospital parking permits for them, as well as helping with fuel costs with those with the greatest financial hardship.
Tiny Lives Trust saw a 100% increase in the need for their vital transport scheme in July of this year compared to July 2021.
It has been estimated that families of neonatal care babies are forced to lose over £400 a week on average while their child is in hospital. The costs included are travel, parking, food and drink, childcare for siblings and loss of earnings.
Rachel Hardwick, Funding and Partnerships Officer at Tiny Lives Trust, said: "We cannot thank TT2 enough for its support. Donations like this one help us provide a valuable safety net for parents entering a world completely out of their control by supplying items, funds, staff specialists and support networks to help make their neonatal journeys a little easier."
TT2's Customer Operations Manager, Shaun Simmons said: "Tiny Lives is a charity that is close to employee's hearts. Having a premature or poorly newborn baby can be one of the most difficult and life-changing challenges a family can experience, so when we heard we could play a part in supporting parents in this terrible position, we were delighted to do so."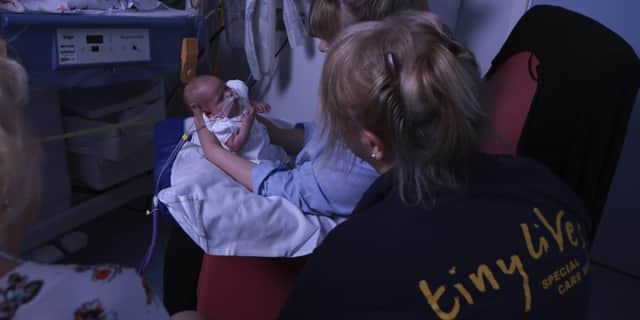 The neonatal unit at the RVI hospital in Newcastle cares for babies from across the North East and Cumbria.