Eldon Square, Newcastle's shopping and dining centre, will be hosting its 11th Student Shopping Night this september.
In partnership with Student Shopping UK, the Eldon Square event will take place on September 27. Over 60 brands within the centre will be offering students up to 50% off fashion, food, drink and much more.
Retailers such as H&M, New Look and Levis will be taking part and offering discounts in-store across various products.
But this event is more than just a shopping spree, as there will also be games and activities to take part in, across locations within the centre.
There will also be a popcorn cart giveaway, spin-the-wheel discounts, Junkyard Golf, North East Ambulance Service demo, virtual darts and more.
Live music and entertainment is also there to enjoy, with DJ sets and a saxophonist performing at the event.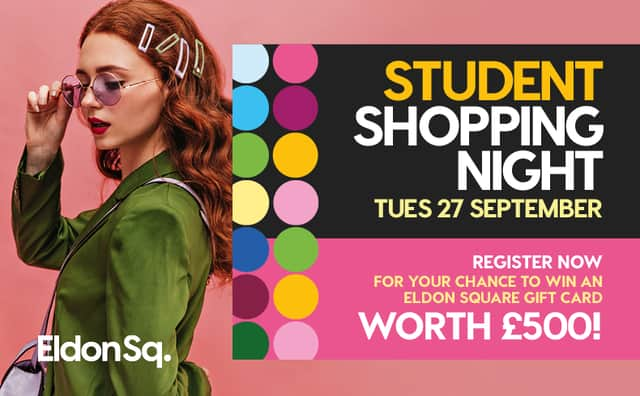 Tania Kelly, marketing manager at Eldon Square said: "It gives us great pleasure to host one of the centre's most popular events again this year and provide students of North East with an opportunity to enjoy huge bargains across our wide range of retail brands and restaurants whilst having great fun on the night. The Student Shopping Night is a truly busy vibrant night, transforming shopping into a unique experience with lots of in-centre activities, and we look forward to welcoming the students to celebrate the beginning of the new term in Eldon Square.
"The record number of our retailers signing up to participate in the evening is a very positive sign that our event is growing by the year, and we are expecting the footfall to hit a record high as well."
Alex Ludlam, managing director of Student Shopping UK added: "We have successfully run over 150 student shopping nights within 32 different shopping centres across the UK, and Newcastle has always been our flagship event in terms of student footfall and event registrations. As we build towards another busy Freshers period, our event with Eldon Square continues to be our largest event, and a firm fixture within the student calendar in Newcastle."
The event will begin at 4pm. Students are strongly advised to register for the event before the day. Registration can be done via the Eldon Square website, and those who sign up will be automatically entered into a draw with the chance of winning a £500 gift card for Eldon Square.