'For too long the north has been left behind' - Rishi Sunak plea for Metro expansion gains more backers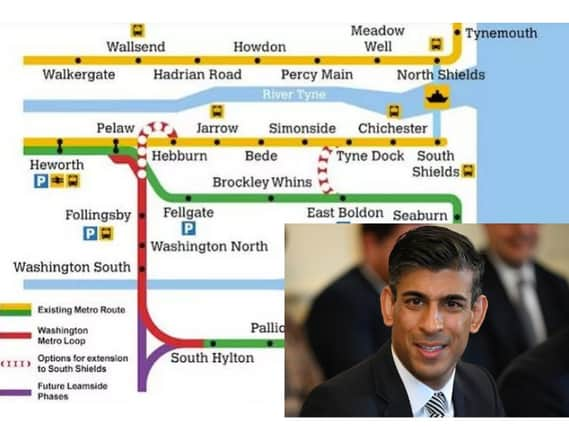 More leading business figures in the North East have joined the call urging Prime Minister Rishi Sunak to commit to re-opening the Leamside rail line and funding a new Metro extension to ensure the region is not 'left behind'.
Reopening the Leamside Line – a disused 21-mile railway line which runs from Gateshead to County Durham and has been mothballed since 1992 – and establishing a new Metro connection between Pelaw and South Hylton known as the 'Washington Loop' are the key demands in an open letter to the PM from Transport North East, which has been signed by a host of major organisations and employers in the region.
Campaigners say that a reopening of the Leamside Line would enable parts of the region - who currently have no access to rail - to be better connected with Newcastle and Sunderland as well as with significant employers like Nissan, Hitachi and Amazon.
The campaign is being backed by our National World titles – the Sunderland Echo, Newcastle World and the Shields Gazette – as we are convinced the projects could deliever major benefits to our region.
Campaigners say the 'Washington Loop' would cost around £745million but would generate more than £90million per year in economic benefits to our communities. They also say it would cut car journeys by 1.7million per year while also giving Washington - the fourth largest town without access to a rail service - new connections to Newcastle, Sunderland and Newcastle Airport
Backed by the Northern Powerhouse Partnership, North East of England Chamber of Commerce, CBI North East, North East LEP and the Federation of Small Businesses, the letter to the PM is also supported by the likes of Newcastle Airport, Port of Tyne and Sunderland BID.
Henri Murison, Chief Executive of the Northern Powerhouse Partnership said "The reopening of the Leamside Line, and in particular the commitment to the Washington Metro Loop, is a critical piece of infrastructure for the Northern Powerhouse.
"Businesses across the region need, and want, investment into infrastructure; not only to open up the opportunities for trade across the region but to vastly improve commuting links for residents and workers and deliver on the ambition of Northern Powerhouse Rail between Newcastle and York on to Manchester and Liverpool."
"For too long the North of England has been left behind and we urge the Prime Minister to re-evaluate his Government's commitment to transport infrastructure spend and invest further in the people of the North East."
North East England Chamber of Commerce Chief Executive John McCabe said "The proposed devolution deal for the North East includes a commitment from the Government to work with the region to push forward plans for the Leamside Line. This is a positive development for this strategically vital infrastructure project; however, it does not secure the funding needed to deliver the Leamside Line in full.
"To reap the full benefits, we need to facilitate the full reopening of the Leamside Line which would improve reliability, resilience and further capacity uplift on the ECML, as well as provide extra capacity for freight growth in the North East, and provide enhanced regional rail connectivity between the North East and Tees Valley."