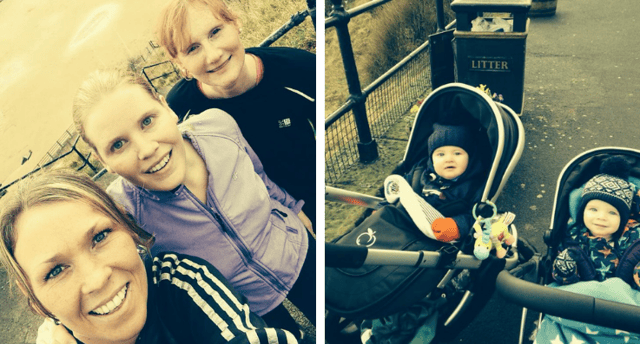 In 2019, Sport England found that 61% of mums feel guilty about taking time to exercise after having their little one.
In that study, the most common reason for struggling to get active was cited as a lack of time.
With so much to do with a little one to care for, mums can have difficulty in getting any alone time, let alone being in a frame of mind for exercise when working out.
Despite all this, 7 in 10 mums also agree that it's important for their kids to see them exercising and leading an active lifestyle.
Just how to make that all work may seem like a complex puzzle, but it's one that Ema Deveraux is helping to unlock.
As well as running aqua-natal classes and baby and parent swimming sessions, Ema is also the mind behind Buggy Warriors in Tynemouth.
The sessions allow mums to come down and get some exercise, whilst not having to think about childcare.
Little ones join their mums in the buggies and are incorporated into the session.
Ema said: "When running the aqua-natal and swimming classes, it was discussed about people not being able to get to the gym which is when we developed Buggy Warriors.
"I started doing that about eight years ago now and it became popular."
The sessions were put on hold during the pandemic but now Ema is preparing to get the sessions up and running again.
Explaining how it all works, Ema said: "Usually I pair them up and we use the stairs at King Eddie's Bay or Crusoe's.
"We use the promenade along the bottom which has a little wall so I get them doing dips and press-ups on the wall and then they take turns to run up the stairs, so obviously someone is there with the baby all the time.
"There are lunges, squats, star jumps. All your basic exercises. I also bring the dumbells along and we do some light weights with them."
Aware of the potential difficulties mums can have getting back into the swing of things, Ema is quick to reassure that these sessions are suitable for everyone.
For those worried about the kids not sitting still, Ema said: "A lot of the time, if somebody has an older childer who is buggy age, but don't like to be in the buggy, mums don't think they'll stay in the buggy for 45 minutes, but they do.
"You can tell they are sat there watching and thinking, 'what's mum doing in front of us'."
For those worried about fitness levels, Ema added: "Everybody's in the same boat with extra wobbly bits to get rid of and there's no need to worry you might not be fit enough to do it.
"It's for all levels and I assess it when they are there and give different steps of exercises.
"Light jogging on the spot instead of tacking the stairs again, for instance."
Most of all, for Ema and the mums, it's about the sense of community.
Ema said: "The parents see each other there every week and then they might go to another playgroup together or meet up for coffee.
"I've got ladies from my first aqua-natal class and their kids are nine now - they still meet up and I see the pictures, which is so great to see."
To stay in the loop with Ema's classes join her Facebook group here.