A doctor from the Freeman Hospital is going to cycle 500km to Paris in just four days, in support of patients living with myeloma, an incurable blood cancer.
Professor Graham Jackson will begin his journey on Thursday, setting off on the London Paris Ride, a 500km cycle taking place over four days. He will do this in aid of Myeloma UK, the charity that supports myeloma patients.
Graham is a consultant haematologist, and has been for nearly 30 years. His profession means that he has worked with myeloma patients for many years, and has dedicated his career to raising awareness of the symptoms associated with myeloma.
Graham has been training for the event for months, and has been counting down the days until he can join the London Paris Ride's hundred strong peloton, which finishes at the Eiffel Tower in Paris on Sunday.
The father-of-two has worked at the Freeman Hospital since 1985, and said: "Every single day in my clinic, I realise how much Myeloma UK helps each and every one of my patients.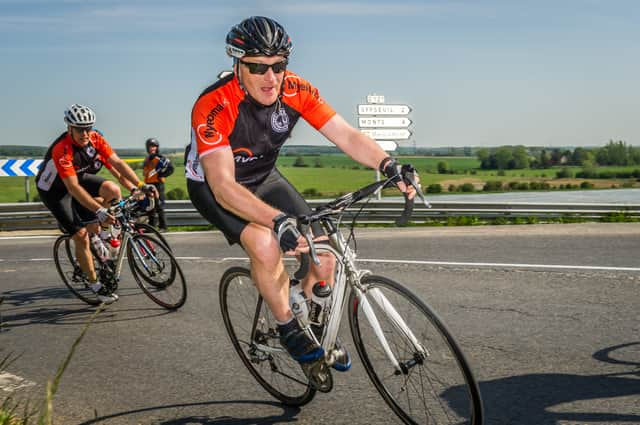 "When I start that cycle ride to Paris, I have no doubt that I'll hear from more patients and from more families who have experienced the huge benefits of everything Myeloma UK does.
"This organisation has transformed people's lives for 25 years, and I'll do everything I can to make sure it can continue to do so, long into the future."
Myeloma occurs in the bone marrow and currently affects over 24,000 people in the UK. The condition kills 3,000 patients each year. The symptoms are difficult to detect but usually present themselves as back pain, easily broken bones, fatigue and recurring infection.
Myeloma is incurable, but it is treatable in most cases. Treatment is aimed at improving the patient's quality of life and controlling the disease and symptoms it brings.
When Graham began his career, there was no treatment available for myeloma. Thanks to the support of fundraisers like Graham, Myeloma UK have been able to invest £19 million into research for new treatments. Today, there are 12 treatments available and life expectancy has quadrupled.
Graham has raised an impressive amount of £2,065 via his JustGiving page so far, and is hoping to raise even more to support Myeloma UK, and their search for treatment. This is the third time Graham has taken part in the London Paris Ride for Myeloma, but this year it also coincides with Myeloma UK's 25th anniversary.
I've been involved with Myeloma UK right from its beginning in 1997. I automatically refer all of my patients to the Myeloma UK website and Infoline, and I know that all of my patients use that information. They help to ease people's anxiety and ultimately improve patients' quality of life. What could be more important than that?" Graham said.
He added: "These rides are genuinely some of the warmest experiences I've ever been involved in. You have everyone connected to myeloma cycling together – patients, relatives, bereaved relatives, doctors, nurses, and people from the pharmaceutical industry. Over the course of those four days, something very special happens. You find yourself cycling alongside people you've never met, but everyone is an advocate for Myeloma UK and for better myeloma treatment."