Arriving at Newcastle's brand-new Gaucho restaurant, I instantly knew I would be in for a treat. The elegant yet relaxed atmosphere of the Argentine restaurant gave off a high-quality feel, which I hoped the food would reflect. It certainly did.
Before I sat down at my table in the Market Street restaurant, I ordered a Lychee Blush cocktail from Gaucho's large, classic bar - which was delicious. I was met with a friendly bar server, who complimented my choice.
The table me and my partner (a fellow steak-lover who was just as excited as myself to try Gaucho for the first time), was seated at was fairly large, with comfortable seating.
We were greeted by our server for the evening, Apostolos, whose service was absolutely impeccable from the offset, and his knowledge of Gaucho's menu was something we greatly appreciated as first-timers.
For drinks, I ordered a house red wine, as it is my favourite wine to have with steak, which comes in a simple yet beautiful long-stemmed glass. The wine was delicious, and as I'd thought, the perfect match with the Ancho steak.
But before we jump ahead to the main course, I have to discuss my starter of choice - Seared Diver Scallops. I chose this as Apostolos highly recommended it, as I told him I love to choose a seafood based starter. It was absolutely delicious, as the scallops were incredibly juicy, served in a Nduja butter with Aguachilli verde and lemon crumb. I was so pleased with my starter, and as a seafood lover, it was the perfect choice. My partner ordered something he wouldn't usually, a Burrata - which he really enjoyed.
For the main course, we of course were very excited to try out Gaucho's carbon neutral steaks, and with Apostolos' recommendations based on our personal tastes, we both opted for the 300g Ancho Ribeye steak, served with peppercorn sauce.
We were shown 'the beef board' which displayed all of the steaks available, which Apostolos discussed with us. I really enjoyed this aspect, as I can sometimes become intimidated by menus, so to have our server show us the food and explain it all, was incredibly helpful and informative.
Now, I say this with absolutely no exaggeration - Gaucho's steak is the best steak I have ever tasted in my entire life. I love a juicy, tender steak and always opt to have it cooked rare, and I sadly can sometimes be left disappointed if it is overcooked.
However, Gaucho made the perfect rare steak that I was able to cut into as if it was butter, packed with full-bodied flavour.
For sides, I chose chips and humita (again another recommendation from Apostolos), and my partner chose chips and sauteed broccoli. We felt like chips were the ideal addition to the steak, and our second sides suited both of our individual preferences. The humita, which is made up of whipped cheese and ancho chilli oil, had a unique, strong taste that I absolutely loved and as I dipped my steak into it, the combined taste was incredible.
For dessert, we chose the Apple Pancake and the Salted Dulce De Leche Cheesecake - both were gorgeous.
The portion sizes were huge and we were bursting by the end (but in a good way), for a high-quality restaurant the prices weren't too pricey and the food was certainly worth every penny and more.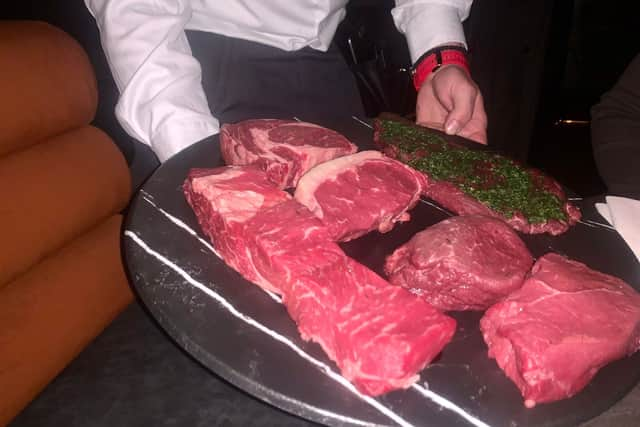 All of our food was absolutely mind-blowingly fantastic, but I of course have to give special mention once again to the amazing customer service, as we were made to feel welcomed and comfortable as we enjoyed our wonderful meal.