Former Geordie Shore star, Vicky Pattison returned to her home city of Newcastle to launch the world's first ever mullet-only salon.
As Vicky arrived in a bicycle-led carriage, she was full of smiles and waves - while wearing a bright orange faux-fur coat and orange nails, to match with the colours of the salon she was about to launch.
The pop-up mullet salon was named Dirty Gertie's, and was located on High Bridge. The salon was created by Foxy Bingo, providing the people of Newcastle with completely free haircuts and manicures, while games of musical bingo were also available to play.
Newcastle icon Vicky launched Foxy Bingo's mullet-only salon on Saturday, March 4 by snipping a purple ribbon and declaring: "I now declare Dirty Gertie's, the world's first ever mullet salon open!"
Vicky said of the opening: "I am absolutely buzzing to be back in the Toon with all my fellow Geordies. It's epic to see mullets are truly back in fashion, and what a way to celebrate. Foxy Bingo sure knows how to bring the party, launching the world's first 'mullet-only' salon!"
Vicky - who now lives in Essex with her fiance Ercan Ramadan, remained in Newcastle over the weekend, spending time with her family members. She posted various videos and images to her Instagram story of her trip, which included enjoying food in Newcastle's Babucho restaurant.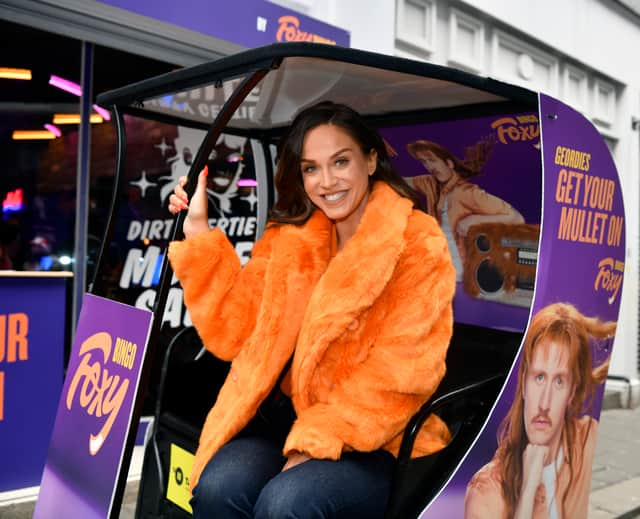 Dirty Gertie's was open for one weekend only. However, those with mullets can enter a competition to win a £2,023 gift card for Foxy Bingo by following Foxy Bingo's Instagram or Twitter page, and uploading a photo or video of themselves with the hashtag #FOXYMULLET. For terms and conditions please visit the Foxy Bingo website.