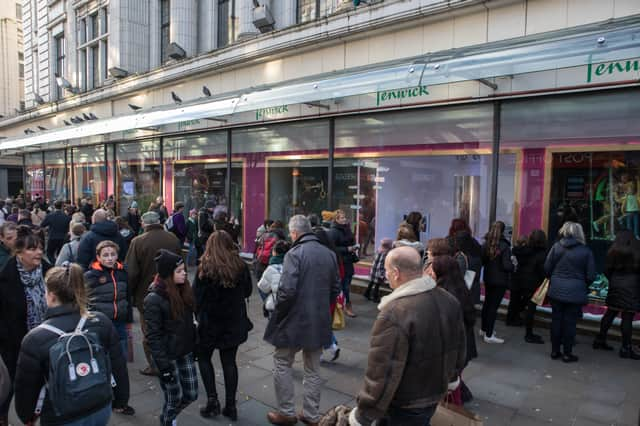 The long wait for the Fenwick Christmas Window 2021 came to an end on Sunday night as the department store unveiled the theme for this year.
There were a couple of technical hitches during the virtual event, but it largely went off with a bang and piqued the festive spirit on Tyneside.
Taking centre stage this year is children's favourite Shaun the Sheep as Fenwick continue to draw inspiration from youngsters' favourite tales.
An Instagram caption shared by the department store read: "In partnership with @aardmananimations, we are delighted to welcome Shaun the Sheep to our 2021 Christmas windows.
"This year's spectacularly festive reveal saw Fenwick Newcastle store come to life with the magical and humorous story of @shaunthesheep and his mischievous Flock running across the entire frontage of the Northumberland Street windows.
"We would like to extend a heartfelt 'thank you' to all who virtually joined us and we can't wait to welcome you to see the windows in person from Monday 8th November until early January."
Fans of the Fenwick Christmas Window both locally and from across the world were quick to share their thoughts online.
On the whole, comments from followers were overwhelmingly positive and praised the 2021 design.
One wrote: "Great... Personal favourite is ewe-castle."
Another said: "That is so cute! I love Shaun the Sheep and Christmas too!"
One excited mum wrote: "The excitement in our house! We watch Shaun the sheep every night! Just ordered some amazing goodies from your website for our son! Amazing @fenwickofficial."
Other one-word comments included 'magical' and 'fabulous'.
However, the Shaun the Sheep theme wasn't quite to everyone's taste.
One virtual viewer said: "Bit disappointed hoped it would be more like last years wind in willows with a lovely story seems to be more of thrown together, but it's okay."
Another wrote: "Disappointing @fenwickofficial just like when Newcastle United signed Joelinton. Get back to the drawing board for next year."