The Great North Run offers crowds of spectators a variety of viewing points for the 13.1-mile marathon.
Those wishing to attend the event have a variety of viewing platforms available to them, but it is advised that they arrive early if they wish to get the best spot.
In-person attendance and Covid-19 restrictions
In-person spectators have an ideal opportunity to see the start and finish of the race. The Great North Run this year starts and finishes close to Town Moor.
Beginning on the A167 and ending on Great North Road, spectators may find it possible to see both the set-off and end of this historical 40th anniversary half-marathon.
Spectators are asked to not attend the event if they have any symptoms of Covid-19 or have been in contact with anyone who has tested positive for Covid-19 in the past ten days.
Anyone wishing to access the Central Motorway will have to travel through the Arrival Zone and Assembly Zone.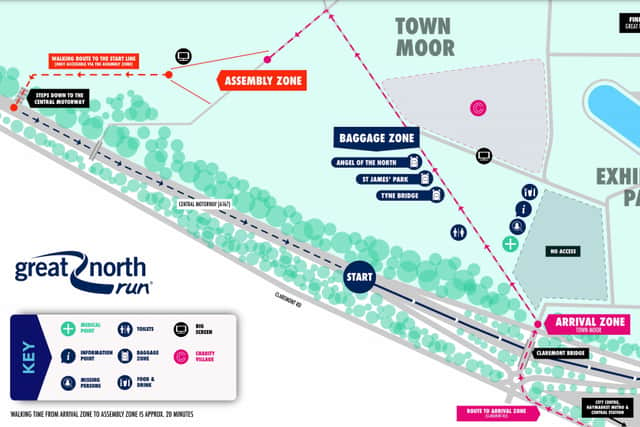 A number of charity cheering points have been set up along the Great North Run route.
With 17 charity points, there are plenty of options to choose from for spectators.
The first of the 17 points is located just after the Tyne Bridge crossing opposite Hawks Road. From there, charity cheering points are stationed along Park Road, Felling Bypass, and the A184, before looping around and up towards Newcastle City Centre.
The final eight spectator points can be found in and around the City Centre, with a route from Market Street to the Civic Centre and Great North Road.
Spectator points nine and 11 give a view of Market Street, as does point twelve next to Monument Metro Station.
Points 13, 14 and 15 run along John Dobson Street, with points 13 and 15 at either end of the street.
The final two points are located opposite Newcastle University, on the lead-up to the final stretch out of the City Centre.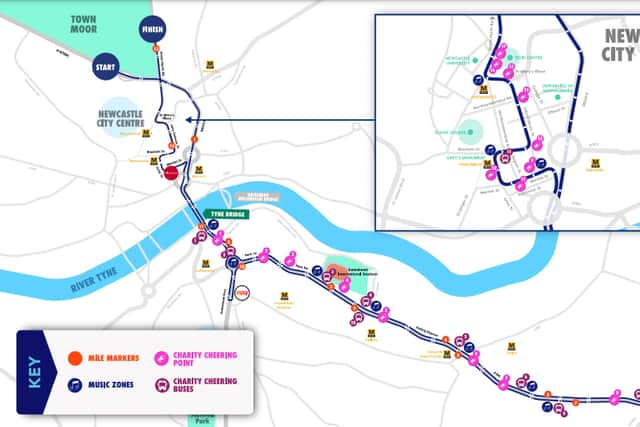 BBC coverage of The Great North Run will allow at-home viewing. Coverage from BBC Two will start at 8:30am and switch over to BBC One at 9:30am, lasting until 1:30pm.
A highlight show of the event is planned for the Sunday evening, but broadcast time has yet to be revealed.