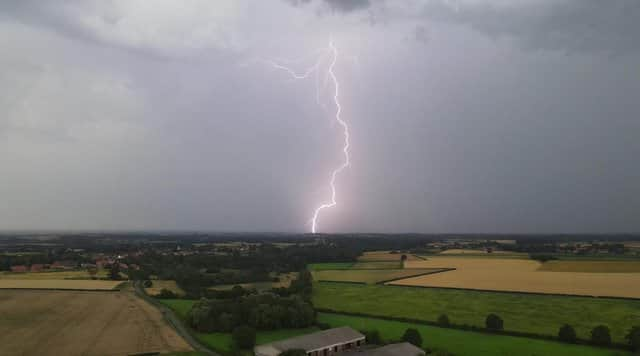 The Met Office has even issued a weather warning for today, Thursday September 9.
The British summer put up a good fight last week as the country bathed in balmy temperatures, but temperatures will start falling from today.
The Met Office warned: "There is a small chance that homes and businesses could be flooded quickly, with damage to some buildings from floodwater, lightning strikes, hail or strong winds.
"Where flooding or lightning strikes occur, there is a chance of delays and some cancellations to train and bus services.
"Spray and sudden flooding could lead to difficult driving conditions and some road closures.
"There is a small chance that some rural communities could temporarily become cut off by flooded roads."
Here's an hour-to-hour breakdown of exactly when the storms are set to hit, according to the Met Office.
Thursday, September 9
11 am - Cloudy, highs of 18 degrees and 10% chance of rain
12 pm - Sunny with clouds, highs of 18 degrees and less than 5% chance of rain
1 pm - Cloudy, highs of 19 degrees and 10% chance of rain
2 pm - Sunny with clouds, highs of 20 degrees and less than 5% chance of rain
3 pm - Sunny with clouds, highs of 20 degrees and less than 5% chance of rain
4 pm - Cloudy, highs of 21 degrees and 10% chance of rain
5 pm - Sunny with clouds, highs of 20 degrees and 10% chance of rain
6 pm - Cloudy, highs of 20 degrees and 10% chance of rain
7 pm - Sunny with showers, highs of 20 degrees and 30% chance of rain
8 pm - Storms, highs of 19 degrees and 50% chance of rain
9 pm - Cloudy, highs of 19 degrees and 10% chance of rain
10 pm - Showers, highs of 19 degrees and 40% chance of rain
11 pm - Cloudy, highs of 18 degrees and 10% chance of rain
Friday, September 10
12 am - Cloudy, highs of 18 degrees and 10% chance of rain
1 am - Cloudy, highs of 18 degrees and 10% chance of rain
2 am - Cloudy, highs of 18 degrees and 10% chance of rain
3 am - Cloudy, highs of 17 degrees and 10% chance of rain
4 am - Cloudy, highs of 17 degrees and 10% chance of rain
5 am - Cloudy, highs of 17 degrees and 10% chance of rain
6 am - Cloudy, highs of 17 degrees and 10% chance of rain
7 am - Cloudy, highs of 17 degrees and 10% chance of rain
8 am - Cloudy, highs of 17 degrees and 10% chance of rain
9 am - Cloudy, highs of 17 degrees and 10% chance of rain
10 am - Cloudy, highs of 18 degrees and 10% chance of rain
11 am - Cloudy, highs of 19 degrees and 10% chance of rain
12 pm - Thunderstorms, highs of 20 degrees and 50% chance of rain
1 pm - Thunderstorms, highs of 20 degrees and 50% chance of rain
2 pm - Showers with sun, highs of 20 degrees and 50% chance of rain
3 pm - Showers with sun, highs of 20 degrees and 40% chance of rain
4 pm - Showers with sun, highs of 20 degrees and 30% chance of rain
5 pm - Showers with sun, highs of 20 degrees and 40% chance of rain
6 pm - Showers with sun, highs of 20 degrees and 40% chance of rain
7 pm - Showers with sun, highs of 19 degrees and 30% chance of rain
8 pm - Showers, highs of 19 degrees and 30% chance of rain
9 pm - Dry, highs of 18 degrees and less than 5% chance of rain
10 pm - Dry, highs of 18 degrees and less than 5% chance of rain
11 pm - Dry, highs of 17 degrees and less than 5% chance of rain