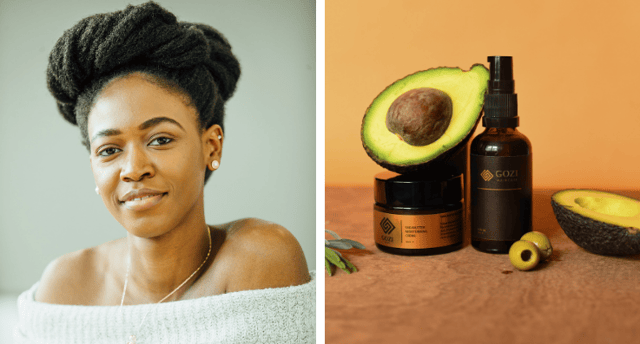 When Newcastle University student Ngozi Ossai finished her degree, she knew exactly where to channel her biomedical knowledge.
Harbouring a passion for championing natural hair ever since 2010, the scientist set to work creating products designed to empower other women to fall in love with the way they looked.
Now, going from strength to strength and with the backing of Newcastle-upon-Tyne central MP Chi Onwurah, Ngozi tells NewcastleWorld.com all about GOZI Haircare.
Q: Hi Ngozi, thanks for taking the time to chat with NewcastleWorld.com. You've got something really special in GOZI Haircare, how did the idea for the business come about?
A: Thank you! GOZI Haircare started from my personal story, almost 11 years now, I decided to go natural. My hair was chemically relaxed before but having to care for my hair, all by myself, the first time away from home made me more aware of my hair difference.
I started being curious about natural/afro textured hair during my A-levels and how differently women like me chose to wear their hair and why. This led me into my own personal research and eventually, I came across the natural hair movement around the time I cut my hair.
The movement gained momentum around 2010 and the essence was to create a new era/period, where women embrace their natural hair, their uniqueness and understand that their beauty is not defined by the the industry which bases its norm on a particular beauty standard.
It was at a time where I wanted to decide my own standard of beauty and help other women too. My frustration in finding it hard to find products that worked for my tightly curled hair (afro-textured hair) and more information on how to properly care for it, became my inspiration.
So, my curiosity, research, creating a YouTube channel to chart my natural hair journey to relate to more women like me and a keen desire to solve a problem ignited a spark that has become GOZI Haircare today.
GOZI Haircare provides a range of uniquely formulated afro-textured haircare products (using natural ingredients) and specialist advice in the natural haircare industry.
Q: You completed STEM training at Newcastle University, what was that like?
A: Studying at Newcastle University was interesting and exciting. At the time, I had moved from Birmingham to Newcastle. I came here because I liked my degree course and I was interested in experiencing a different city.
Newcastle University has a prestigious reputation which translated through my degree; I enjoyed the length and totality of my Biomedical Science degree. One of my course modules was "Business for the Bio scientist" in my final year which ignited my entrepreneurship spirit and led me to the "Start Up" support at Newcastle university that eventually provided support for the launch GOZI Haircare.
Q: You must know the city well then. What do you love about Newcastle?
A: Unfortunately, I don't go out much but one thing I love about Newcastle is the sights!Newcastle is famous for its spectacular bridges and after living here, I know why! Mostly at night, the city is beautiful. The bridges definitely add to the ambience of the city.
Q: There's been a greater push over the past year for hair products that cater for a more diverse range of people. How do you think the industry can achieve that?
A: Going back to the recent natural hair movement that gained momentum in 2010. More women are deciding to embrace their natural hair (afro-textured hair). With this happening it has highlighted the difference in our hair textures and structures and the importance for products that cater specifically for the needs of the different hair-types.
Previously it was more of a one size fits all approach based on industry standards. As natural/afro-textured women rediscovered their natural hair texture with the help of online communities, the curiosity about effective products for healthy hair has grown.
With the help of social media platforms, and the natural hair movement, the haircare industry is being made aware of the variety that need to be catered for. The aim is to propel a big enough wave that creates an industry able to provide for the needs of the diverse customers.
For example, the science of GOZI Haircare products is based on the needs of the afro-textured hair-type towards the goal of healthy hair growth. With the difference in our hair structure, the afro textured hair-type tends to have more coils/curls and the oils naturally produced in the hair follicles have a harder time reaching the ends of curled hair. This in turn causes dryness and makes it easier to break. This makes moisture retention a very important component for the natural hair/ afro-textured hair type. This is why our products concentrate on moisture retention and aiding healthy hair growth.
What we promote at GOZI Haircare is that first and foremost, embrace your hair and its beauty and uniqueness. So, if you want to wear your natural hair "IN" (for example in protective hair styles), or "OUT", you have access to the relevant products and knowledge to care for it properly. Being able to care and love your hair in its natural state first is the goal.
One last thing to add talking about natural hair/afro- textured hair is that while we may style our hair to reflect our own individual choices, our hair is still being interpreted by a mainstream gaze and that interpretation is often wrong- there is still an expectation to conform to a general aesthetic standard in some settings, which in time hopefully more representation can help to change the narrative and stigma still attached to natural hair/afro-textured hair.
Q: You recently met Newcastle MP Chi Onwurah, what did you talk about and how great is it to have her support?
A: Yes, I recently met up with Newcastle MP Chi Onwurah. It was a lovely meeting. She is a very inspiring woman. We sat down to talk about businesses in the North East and it was my pleasure talking about GOZI Haircare.
You can find out more about GOZI Haircare here.