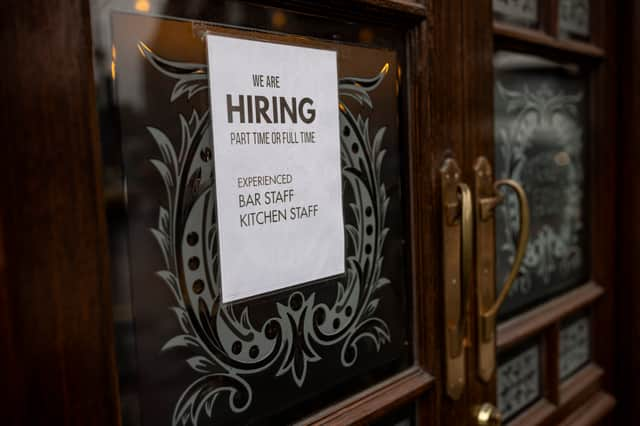 Many hospitality businesses have struggled to recruit for roles
Hospitality businesses in Newcastle upon Tyne are facing staffing crisis amid recruitment issues in the sector.
After thousands of hospitality workers were furloughed during the pandemic, many have found work outside of the industry with no plans to return, leaving bosses struggling to fill vacancies.
Recruitment site Caterer.com suggested that more than one in ten UK hospitality workers left the industry in the last year, with the pandemic and Brexit to blame.
The industry has a reputation for long hours and low pay which Newcastle-based businesses are trying to move away from in the hope of recruiting and retaining staff.
The hospitality recruitment crisis in Newcastle
The NewcastleGateshead Initiative recently held a webinar to discuss ideas on how to tackle the issue and potential solutions to post-lockdown growth.
Ian Thomas, the Director of Tourism and Research at NewcastleGateshead Initiative told the webinar hat, regionally, 82% of businesses within the North East polled that they were facing recruitment challenges.
Research carried out by NewcastleGateshead Initiative showed that the average number of vacant positions per business was 15, with the number of vacancies per individual business ranging from 2 to 50.
Nationally, the webinar stated that 15% of businesses now have 20% less staff and that 1 in 10 staff on furlough will not return to work.
And huge investment in the city has highlighted the recruitment gaps.
Ian Thomas at NewcastleGateshead Initiative, said: "Following the reopening of the city centre after lockdown, and significant investments such as INNSiDE Newcastle hotel, Hard Rock Café and the announcement of a Moxy Hotel on Newcastle Helix, we have seen an increase in job vacancies which bring new opportunities for local jobseekers."
He added: "Our vibrant tourism and hospitality sector is integral to our region's identity, and is often the first and lasting impression visitors have of our city.
"The sector in Newcastle and Gateshead alone, is worth an estimated £1.9 billion, as of 2019, and maintaining the sector's health is crucial to the recovery of our city, as well as the development of skills and employability of our residents."
Solutions for regional hospitality sector
Von Clarke, Employer Engagement Manager at DWP and Job Centre Plus, addressed solutions to the hospitality sector in the post-pandemic environment.
Solutions offered to businesses were a kickstart scheme that would provide a paid, six-month work placement for those aged 16-24 and offering unpaid work experience to develop possible candidates for work.
And last week Newcastle City Council urged residents to consider job opportunities in tourism and hospitality, highlighting the hundreds of jobs available in the sector.
The council launched a new online platform [email protected] which features hospitality vacancies including front of house and waiting staff roles at some of the region's leading bars and restaurants, chef opportunities and kitchen assistants to hoteliers and receptionists at well-established accommodation brands in the city.
Michelle Percy, Director of Place at Newcastle City Council, said: "With the furlough scheme set to end on 30 September, it is important that people have access to good job opportunities.
"The hospitality sector is a key part of our local economy and will play an important role in the city's recovery, which is why we are supporting this recruitment drive."
'Find me a chef and I'll feed you for a year'
Thinking outside of the box, Rich Cullen, owner of Kiln Restaurant in Newcastle, came up with the idea of offering a year of free food to whoever can find him a permanent chef.
The offer, Rich Cullen said, a really nice reward for someone who does help us find a member of staff.
He said: "We find that we struggled using recruitment agencies, we haven't found them to be particularly forthcoming."
The business-owner said he thinks the hospitality industry has always struggled with staffing and cites "culture that's fuelled on people doing way too many hours."
Brexit and the pandemic have amplified the recruitment issues, he said, and it is now time for the industry to change the culture.
He said: "Those restaurants that don't try and change the culture, don't try and pay staff more money, don't try and look after them, will eventually just cease to exist.
"A restaurant can't run without the people that are working there really, really caring."