Volunteering can be an amazing experience. Not only can it feel incredibly rewarding, it helps those in need. People choose to volunteer for a variety of reasons. Some of those reasons could be that they care very much about a certain cause, they are looking to return the help that has been given to them, or maybe they are just looking to fill their days with something enjoyable that helps others.
Volunteer Centre Newcastle is funded by Newcastle City Council, and they offer volunteer opportunities to the public. You can sign up via their website to volunteer for a role (or multiple roles if you fancy it, through their Volunteer Passport Scheme). All volunteers are offered an induction and relevant training. Volunteers will also be given a supervisor, to help them to understand their role. Volunteering opportunities can be offered to both young people (aged 13 to 17 years old) and adults, depending on the role.
Searching for volunteering opportunities on the Volunteer Centre Newcastle brings up 571 results, showing how much charities are in need of volunteers. The website allows you to input your postcode, the radius you are willing to travel, keywords, interests and activities. Without inputting any information, all Newcastle volunteer opportunities are available to view.
Here are a few of the opportunities they offer! However, there are so many opportunities on the website for many amazing charities and organisations. Please visit Volunteer Centre Newcastle to find out more.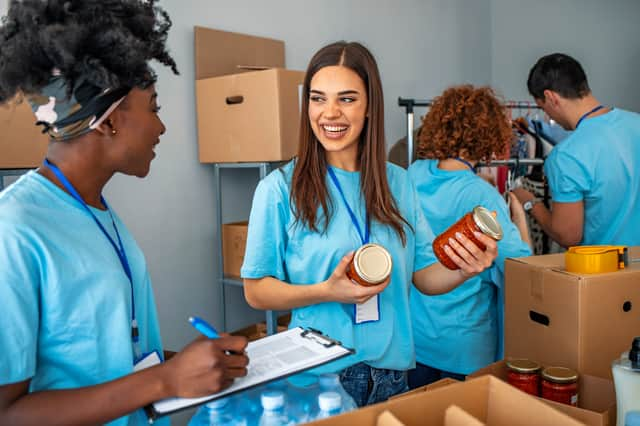 Hospital Volunteers
Newcastle upon Tyne Hospitals offer many volunteering opportunities. There are a plethora of different opportunities you can apply for, to help those in need. Newcastle upon Tyne Hospitals are currently looking for drivers, retail assistants, mealtime support, and support workers for specific departments such as the chemotherapy day unit.
Crisis Skylight Newcastle Volunteers
Crisis Skylight Newcastle is a charity that helps those facing homlessness. They are currently looking for a whole team of volunteers for many different roles. Opportunities include Transport Team Leader, Shift Leader, Student Podiatrist, Samaritans Call Centre assistants, and even a Christmas Quizmaster for an event on Christmas Day.
British Heart Foundation
The British Heart Foundation in Byker is looking to recruit volunteers. The roles and departments they are looking to find volunteers for are customer service, administration, warehouse, cash desk, electrical, online and many more.
Top volunteering opportunities for young people aged 13 to 17 years old include; library staff, retail shop volunteers, and creativity club volunteers at different locations for Success4All.