Astronomers and star gazers in Newcastle are in for a treat this evening, as Jupiter will come within its closest proximity to Earth for nearly 60 years.
The Great Red Spot will "reach opposition" on Monday (September 26); when Jupiter rises in the east, the sun sets in the west and placing them at opposite sides of Earth.
The giant ball of gas will come within 590 million kilometres of Earth, a rare occurrence in the world of astronomy.
"Jupiter is so bright and brilliant that a really nice thing about it is even in a city, in the middle of a bright city, you can see it," says Alphonse Sterling, a NASA astrophysicist at the Marshall Space Flight Centre in Huntsville, Alabama.
"So I would say that it's a good thing to take advantage of and to look at no matter where you're at."
Here's how to see Jupiter's close encounter with Earth this evening in Newcastle.
How to see Jupiter's close approach in Newcastle?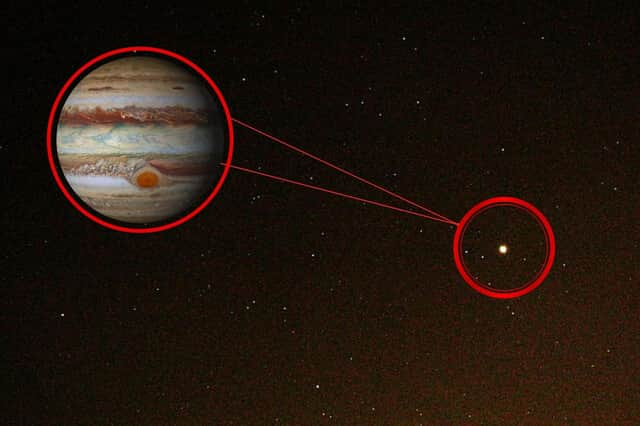 According to NASA, the best spot for getting a good view of the phenomenon is somewhere high, dark and dry.
Once you've made it to your ideal location, look to the eastern horizon around sunset and you should be able to see the planet with the naked eye - aside from the moon, Jupiter is likely to be the brightest object in the sky.
Research astrophysicist at NASA's Marshall Space Flight Centre, Adam Kobelski, said: "With good binoculars, the banding (at least the central band) and three or four of the Galilean satellites (moons) should be visible.
"It's important to remember that Galileo observed these moons with 17th century optics. One of the key needs will be a stable mount for whatever system you use."
What is the Met Office weather forecast for this week in Newcastle?
Monday is the best day to view the oldest planet's approach, however, stargazers should still get a good view of Jupiter throughout the rest of the week.
The Met Office has advised this evening that "Showers will fade during the evening, becoming mostly confined to windward coasts overnight. Temperatures falling readily under clearing skies with frost patches forming. Away from the coast winds will ease."
For Tuesday, it will be a "cold yet sunny start. Cloud building by late morning with scattered showers developing. Some showers may merge into longer spells of rain, locally heavy, especially North Sea coast and Rather windy".
The rest of the week will see Newcastle have "sunny spells Wednesday with lighter winds. Fewer showers but organised bands possible. Scattered showers Thursday, potentially heavy and thundery. Bright Friday after early fog. Cloud and rain push eastwards later."