A proposal to give £3.5 million of public money on the controversial development of Strawberry Place outside St. James' Park has now been scrapped.
The news comes on the same afternoon that Newcastle-upon-Tyne Central MP Chi Onwurah published a blockbuster letter slamming the plans to award the money after previous developers High Street Group fell into administration.
Ms Onwurah not only questioned the morality of that funding but highlighted issues concerning the future of the Metro and the potential to scupper St. James' Park expansion plans.
The North of Tyne Combined Authority (NTCA) had planned to invest nearly £3.5 million from its Brownfield Housing Fund to get the proposed development underway but was met with fierce criticism. As a result, that proposal has been shelved, according to the Local Democracy Reporting Service (LDRS).
Celebrating the decision, which was at least in part triggered by her strongly-worded letter, Ms Onwurah said: "I am pleased no sign-off has been given on this use of public funds for a private sector development opposed by many of my constituents and which would negatively impact Newcastle United and the city skyline. I hope the NTCA will decide not to spend public money in this way when the decision returns."
The NTCA met at the Newcastle Civic Centre on Tuesday when North of Tyne mayor Jamie Driscoll noted "economic ramifications that don't stack up" on the Strawberry Place site - which was sold by former Newcastle United owner Mike Ashley.
The Labour mayor later told the LDRS: "There are a number of issues about the economic viability of this, should we be subsidising the nature of the project, the housing. I know there is a big public story about Newcastle United and the possibility to expand – I don't know whether this would actually impinge on that or not anyway, that is a question for architects and engineers.
"But we have decided that we are not going to support the scheme, on its own merits, with public money."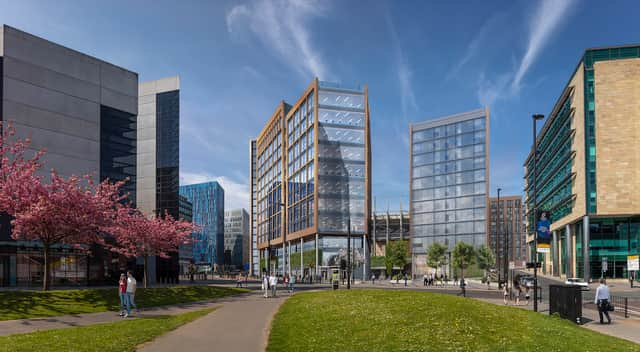 The approved plans were given the green light in 2019 to build 328 flats, an office block and a 213-bedroom hotel on the site just in front of St. James' Park. A report had suggested that the work would create more than 1,700 construction jobs and put £670 million back into the local economy over the next decade.
The letter published by Chi Onwurah highlighted that her objections to the development were based on three main areas of impact, as follows:
"Impact on the Tyne and Wear Metro, namely that it is hard to see how 'Metro re-invigoration' will be possible without an extension to the West.
"Impact on St. James' Park, specifically, that the development could prevent further expansion of the stadium. Constituents are concerned this would the Stadium's potential and could lead to a future owner moving the team out of the city centre.
"Impact on Newcastle United Football Club. The land was previously owned by NUFC. The financial basis on which these assets were transferred to the developers is not clear."