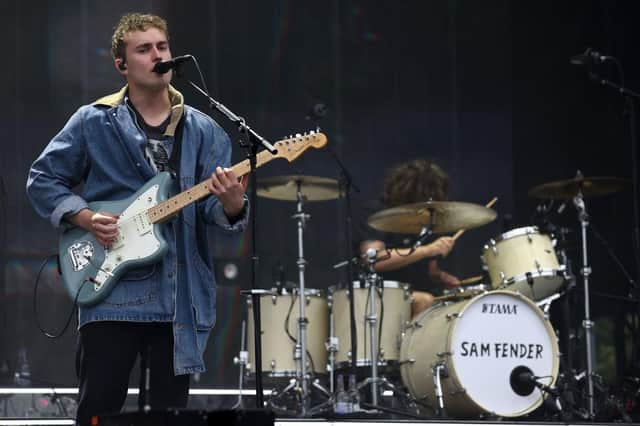 Sam Fender has already received the Brit Award for Best British Alternative/Rock Act and the Ivor Novello Award for Best Song Musically and Lyrically.this year. He's 9/1 to add the Mercury to his trophy cabinet for Seventeen Going Under.
You may want to revoke my geordie status once you find out that I have never listened to Sam Fender's best-selling second album, Seventeen Going Under. I have, of course, heard the song of the same name, which I absolutely love but given the fact Fender's genre isn't really to my taste, I have never taken the effort to listen to the full album. Seventeen Going Under celebrated a year since its release on October 8, and I realised that this was the perfect time to give the album a chance. Here is what I thought - track by track.
An anthemic North East setlist provides a music culture Fender and his hometown can be proud of
The first track on the album is of course the title track, Seventeen Going Under. Now, I mentioned earlier that this was one song I knew and loved - but thought I would mention my reasons why. To be completely honest, it is all about the lyrics for me. The situations Fender references are - for me, incredibly relatable as someone who grew up as a teenager in the North East. Specifically "the boy who kicked Tom's head in - still bugs me now", makes me think back to similar moments and feelings I have experienced myself. Secondly and most obviously, the lyrics "I was far too scared to him but I would hit him in a heartbeat now", those words went viral on TikTok and that's because many people can apply them to their own trauma in so many different ways.
Now, we reach unfamiliar territory for me as I have never heard this track or any of the others coming up. I'm pleasantly surprised however by this track - it's a nice song and fairly gentle. It's one I can imagine listening to while walking along the beach after a bad day, especially due to the nature of the lyrics such as "felt like giving up so many times before but I'm still grinding. I'm only getting started." Fender is reminding us to never give up on ourselves, even when times are difficult because we have so much more left to give.
Ok, third song in and I'm starting to notice that Fender is certainly not restricting himself to one genre and no song has sounded the same yet. This track, Aye - has a gothic, dark sound to it. I realise almost instantly that the sound matches the dark topics Fender is discussing within his lyrics. It's not my favourite song of his, but it's certainly one that is supposed to make you think about and question the world we live in and society in general.
I really like the layering of vocals on Get You Down, and the build up of the drum beat and instrumental before fully dropping around the 1:03 mark. I also have really started to notice the vocal ability of Fender. He has an extremely unique and recognisable voice and tone - which really shows in this song due to the long notes towards the end.
As soon as this song starts, I know that I'm going to love it. That's because it reminds me of lots of different genres that I love mashed together, and although that might sound bizarre, it sounds wonderful. It's one of those songs that quite a lot is going on in the background of the instrumental but it blends together beautifully, it's only if you listen closely that you hear all of the different instruments and beats. To top it off, Fender's emotions really come through.
I really love that Fender's geordie accent can be heard when he sings, especially in this song. Fender's songs are completely enriched in North East culture and identity, which is what I believe makes him who he is as an artist. Again, it's another nice, calming song even though it is filled with emotive lyrics - which seems to be about a troubled father and son relationship. Just when I was starting to think the song is good but not brilliant, we hear a saxophone around 3:37 which sounds beautiful and adds to the emotion.
Wow. I don't know what else to say with this one. Fender's voice has such range, that this song sounds like a completely different person while still carrying his recognisable vocal tone. I'm mostly enamoured by Fender's velvety vocals on this, but the instrumental helps to amp up the emotion even more. I really loved the guitar riffs near the end around 4:02, the scratching and whining of the instrument helping us to understand the pain behind the song. I genuinely wanted to cry when listening to this song, and I can't pinpoint why - this might be my favourite song of his.
This song makes me feel slightly uneasy and thankfully, I think it's supposed to. From Fender's quick changes in key, going from high to low without much build up, to the fast paced drum beats that make your heart race, it keeps you on your toes throughout and slightly on edge. To me, that shows true talent that you can evoke various emotions through the pace of the song alone.
I understand the meaning behind Mantra, therefore I can appreciate it for what it is - however, this song isn't too strong for me. I will say though, Fender's vocals come through again and I'm so annoyed at myself for not realising how good of a singer he was before listening to this album. Oh, and another saxophone solo! Lovely.
I think what I've really started to notice about Sam Fender's songs is that he will take taboo subjects that certain artists are too scared to approach, and will proudly discuss them in his lyrics. He has no issue with sharing his opinion on issues within our society, and I think that is brilliant. All of this really shines through on Paradigms.
What a beautiful song! One I would absolutely love to hear live. I feel like we can really hear the rawness within Fender's vocals in this song. The fact that it is so stripped back to begin with before reaching crescendo, really works. I've found this type of song by Fender to be for sure my favourite.
What caught my attention the most in this song was from the instrumental which starts at 1:04, which I believe to be a keyboard. it doesn't seem to fit in with the song, however that is actually what makes it sound good. The contrasting, jarring element of that section feels intentional. The bass near the end brings us right back in.
Pretending That You're Dead
The lyrics of this track are really quite sad and definitely relatable for those who have been through heartbreak. Fender sings the words we have all said to our friends when an ex gets a new partner. Even though it is a sad song, I absolutely love the beat and it makes me want to dance.
With Angel In Lothian, I feel it harks back and is inspired by late seventies to early eighties songs, while simultaneously sounding incredibly modern and new. It's a good song - certainly not my favourite but I like the way it reminds of some of the greatest musicians of all time, almost as if Fender is paying homage to them with this song.
I certainly wasn't prepared for an almost country-sounding intro to this song, further proving my point that Fender isn't afraid to branch into different genres of music while always putting his distinctive sound to it. I'm obsessed with how clear his vocals sound on this one, as we hear every break and breath. It is certainly more of a personal, intimate track. All of Fender's songs carry so much emotion, but this one felt even more so. I really felt every word that he sang.
For the penultimate track, Fender brings us back from the emotional journey we have been through on the course of this album as he reminds us: "We're alright. It's time to put the world to rights." I feel this song really works in the place that it is on the album due to its nature.
We've reached the last song, and I already know I'll be returning to this album again. I've only just realised listening to the deluxe version of the album, but I am so glad I did as Poltergeist is a deluxe song but I believe it is the perfect last song to round off the album with its gentle melodies. I'm so surprised by how much I enjoyed this album and quite how talented Sam Fender truly is. I just wished I'd listened sooner.