I raved at Greggs' Christmas brunch - and staggered away with this interesting bakery merch
The Greggs Festive Bake Brunch travelled across the country, providing Greggs lovers with a fun and festive event.
Watch more of our videos on Shots! 
and live on Freeview channel 276
Visit Shots! now
Myself and my friend Neve arrived at the Dean Street location and were greeted with prosecco on arrival (which was mixed with a mulled wine syrup - delicious) and shown to our table. We instantly felt like we were going to be taken care of, which we definitely were.
The pop up was festively decorated with lights, tinsel and foil streamers. The walls were adorned with Christmas ornaments such as candy canes. There were also decorations of sausage rolls and festive bakes. A large Christmas tree stood in the corner. The tables were decorated with crackers, set out in a Christmas meal setting. I felt so festive, and as someone who loves Christmas, I welcomed the feeling with open arms.
The event was hosted by Gareth from HunsNet, who ensured that everyone was prepared for a party. Despite it being 11am, Gareth's infectiously fun personality got us all in the mood for a full on Christmas party. We were asked to open our crackers to get the party started, with all of us finding a £5 Greggs voucher, which was a lovely surprise. One lucky winner found a £50 gift voucher, and we all cheered!
The drinks were flowing, with the lovely servers bringing us a new drink as soon as our last was finished. You could choose from a variety of drinks, including a Festive Fizz (our welcome drink), Greggspresso Martini, Sausage Roll Martini and a Sugar Strand Daiquiri. There were non-alcoholic options, including a Festive Fizz with no-secco instead of prosecco and a Greggs No-Aperol Spritz. The drinks were incredibly strong, and given the constant top-ups I could feel myself getting drunk very quickly - I seemed to forget it was just after 11am, and was dancing away like it was a Saturday night.
We were then treated to performances from Newcastle drag queen Samantha Stone, who performed a hilarious rendition of Mariah Carey's All I Want For Christmas Is You, wearing a sparkly red Christmas dress. Samantha also performed a Girls Aloud hit, wearing a Greggs branded bodysuit, with matching Greggs socks - such a look! But the live entertainment didn't stop there, as Newcastle singer Phoebe performed a selection of upbeat tracks.
The food was brought out at the perfect time, platters of Greggs most-loved savoury staples, including sausage rolls and festive bakes, followed by a sweet platter filled with doughnuts, mince pies and more. There was also a vegan platter available.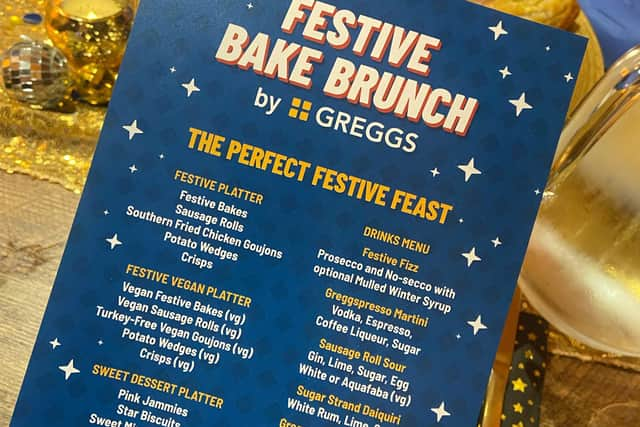 Prizes were also available to win for the best singers and dancers. With HunsNet's Gareth encouraging us all to really go for it! A pair of sliders, a festive bake cushion, and two hoodies (all of which were Greggs branded) were up for grabs, and I actually won a hoodie!
It was an amazing event, and I left the venue feeling like I had the best time (and a bit wobbly from all the cocktails). HunsNet's Gareth described it as "a Greggs fever dream", and that is exactly what it felt like, but in the best way. It was jam-packed with fun, talent and Christmas cheer. I would actually love for Greggs to make this an all-year round thing, as they certainly know how to host a party!