Junior doctors across England have voted for strike action over pay disputes.
The British Medical Association (BMA) will take part in a 72-hour walkout in March after being offered an "insulting" 2% pay rise that would see them work for more than a month for free with current inflation levels.
According to the BMA, junior doctors have had a real-terms pay cut of more than 26% since 2008.
Dr Martin Whyte, Pedratric Registrar based in Sunderland and deputy chair of BMA's Northern Junior Doctors committee and , said: "I've been practicing medicine in the North East for about six years. In that time, things have only gotten harder, the workload is heavier, the patients are more complex, and resources are just becoming more and more stretched.
"Increasingly my junior colleagues are talking about uprooting and leaving medicine, leaving the North East and that's going to have implications now, but also in five and 10 years time when they could have been becoming consultants. That will impact our ability to deliver care and you can already see this happening.
"Waiting times this winter across the region were horiffic for adults and for children because we do not have the staff for services to meet needs."
The BMA ballot was the largest ever turnout for doctors with 98% voting in favour of strike action.
Pay restoration to the level it was at in 2008, adjusted for inflation, is their only demand.
Whyte added: "We don't want to have to undertake industrial action. We want to be able to go to work and look after patients. But if the government can't meet us halfway, that's what we have to do."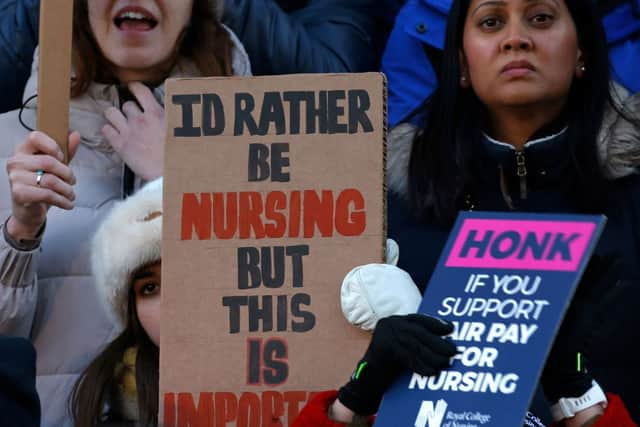 The decision by junior doctors comes at a time of increasing unrest amongst public sector workers.
Members of the Royal College of Nursing are set to walk out next week over 48 hours and the ambulence service is set to announce further strike dates.
All unions involved cite a lack of communication and compromise from the government as part of their reasoning.
Dr Robert Laurenson and Dr Vivek Trivedi, BMA junior doctors committee co-chairs, said: "We are frustrated, in despair and angry and we have voted in our thousands to say, 'in the name of our profession, our patients, and our NHS, doctors won't take it anymore.
"This year we were offerred an insulting 2% pay rise, which means with inflation at over 10%, we are working more than a month for free.
"Added to that, ever-worsening conditions mean more doctors are being lured away from the NHS to seek better paid medical careers and quality of life elsewhere."
They concluded: "There is no doubt that this is a crisis, but it is of the Government's making- so far refusing to have any meaningful discussions with us about pay. The road to recovery must start with Ministers listening to us and paying us what we're worth."