It's only 12:15 on a Thursday afternoon, but already a stream of jovial, green-wearing folk are flooding into the Tyneside Irish Centre in Newcastle for St. Patrick's Day.
Inside pints are being poured and people chatting away over the sound of live Irish music being casually played by a group of lads at the back of the bar - Clodagh McKenna is making some sort of Irish stew on This Morning in the background.
Those in the Tyneside Irish Centre early doors on Thursday are here for the good times that St. Patrick's Day brings, but it's also a day of huge cultural and historical importance for Newcastle.
Bill Corcoran of the Tyneside Irish Brigade Association told NewcastleWorld: "St. Patrick is a proper Northumbrian saint, it's very important that people in Newcastle and Tyneside celebrate such a great man who brought peace and harmony.
"Here we have peace and harmony with the Irish as ever in the middle of the Geordies.
"We're all great talkers, great drinkers, we enjoy our football and it's natural that when the Irish have a good time, we invite everyone along.
"There's a saying in Irish that a strange is just a friend you are yet to meet.
"That goes double for Newcastle, as you know there are no strangers here, just lots of friends you are maybe not yet to meet."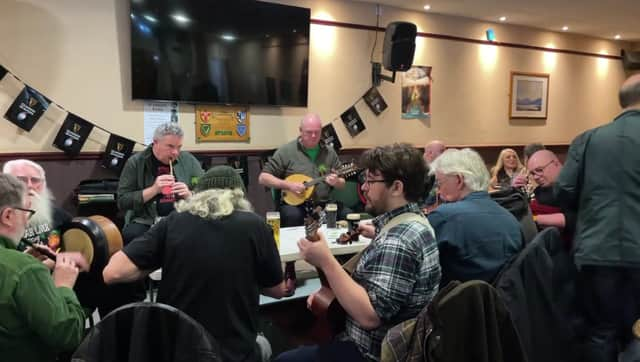 At around 12:45 veterans and members of the public gathered outside the Tyneside Irish Centre to take part in a procession to the Old Eldon Square War Memorial.
As people started to get ready to go, NewcastleWorld spoke to the Tyneside Irish Centre Management Committee's Vin Wynee, who had just been part of the musical ensemble and whose job it was to "keep the music going and pint flowing" as the procession happened.
Vin said: "We're playing traditional music all the way through the day.
"It's all part of what is the Irish diaspora. The Irish came to England throughout many periods of migration and brought their music and culture with them."
Once the procession reached the War Memorial Bill Corcoran delivered a speech with the emphasis being that "the worst peace is 1000 times better than the worst war" and handed out shamrock to the Lord Mayor, who was in attendance.
After the service the Lord Mayor, Cllr Habib Rahman said: "Of course, it's very important we mark St. Patrick's Day and remember all the fallen heroes of the past.
"I'm honoured to receive the shamrock and it's sitting beautifully on my chest."