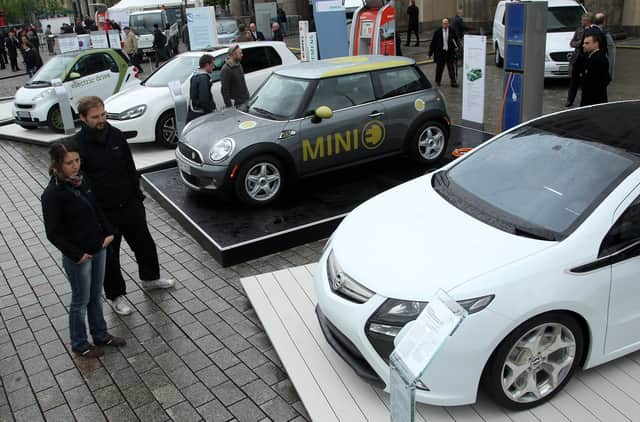 Electric cars are set for a boost after this week's petrol shortages (Image: Getty Images)
The petrol shortages that have plagued the North East this week will be a 'massive changing point' for the future of our roads, a local expert has said.
A lack of qualified HGV drivers caused the fuel shortage across the UK this week with experts citing the pandemic, Brexit and political tensions as root causes.
As a result, queues of cars stretched from petrol stations with many closing their doors with fuel reserves used up.
Martyn Hetherington, Associate Member of the Institute of the Motor Industry, of West Moor Mot Centre Limited in Killingworth works with electric cars every day and admits he is "completely and utterly fascinated by them".
He said: "We're pretty much hands-on electric cars all the time, especially myself being qualified. I'm immersed in electric cars.
"I used to drive a company van but changed over to a Renault Zoe about two months ago, then obviously this petrol crisis hit and it's made it laughable.
"It was amazing to just be driving past people queuing at the petrol stations."
The kind of sign that has been springing up at petrol stations all over Ashfield. (PHOTO BY: Chris J Ratcliffe/Getty Images)
Martyn, who went untouched by petrol shortages, witnessed the troubles it was causing for those around him.
He said: "My mum works for the NHS and she's reluctant to drive out the house now as she's struggling to get to a petrol station and wants to keep her fuel to get back and forth from work.
"I think this is going to be a massive changing point.
"I think a lot of people are sitting there thinking, I could just charge my car overnight and leave it at work the next day and eradicate that problem.
"I know electric cars are a bit more expensive, but you remove that crisis."
Even before this month's petrol crisis, electric cars' popularity was soaring.
Figures compiled by Next Greencar found that the year preceding August 2021 saw an unprecedented boom in the popularity of electric cars.
In that time, 175,000 electric vehicles were registered, showing a growth of 66% on 2019.